All my tips for an unforgettable stay in Malta, gathered in one place!
Do you want to go to Malta?
Located in the heart of the Mediterranean, Malta is an ideal travel destination.
But organizing your stay can quickly become a headache.
To help you, I have created this comprehensive guide to visit Malta. It will become your travelling companion. Its digital format will allow you to always carry it on you, without weighing down your bag.
Malta, by its small size, is a country that can be easily visited. Public transport makes it possible to go almost everywhere.
If Malta is small, it contains many riches: heritage, culture, nature… There is something for everyone.
The Maltese archipelago is fascinating and unique. It has been shaped by the various powers that ruled over Malta in the past.
Between tours, cultural discoveries and sunny holidays, Malta will enchant you for sure. When you return from your trip, you will have only one desire: to go back to this heavenly destination.
All my expat secrets for visiting Malta, which you will not find elsewhere!
Having lived in Malta for more than four years, I had the opportunity to test many activities. I have visited absolutely every place in Malta (possible thanks to the small size of the island and my devouring curiosity), and I know Malta like the back of my hand.
I would like to share with you this precious experience to allow you, in turn, to discover this pearl of the Mediterranean.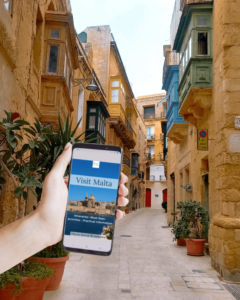 There are so many treasures in Malta that it can be difficult to choose what to visit first when you stay just a few days.
Many travelers spend hours browsing different websites, blogs and travel guides to organize their trip. It's enough to feel lost.
You may not have time to organize your trip, but you find travel agencies too expensive.
That is why I have created itinerary suggestions based on the number of days you will stay in Malta (from 3 to 7 days and beyond). Preparing your trip to Malta will then be very easy. And you will be sure not to miss anything!
In addition, this eBook Visit Malta will provide the information you need to organize your stay in Malta. It will answer most of your questions: What to visit first? How to get around in the archipelago? Where to stay? What are the best places to eat? Etc. You will find plenty of practical information in one place.
–       Brief history of Malta
–       Suggested itineraries (for stays of 3-7 days)
–       Other places to visit in Malta
–       Getting around in Malta
–       Boat tours to discover Malta from the sea
–       Activities to do in Malta (sports, culture, family)
–       Malta's most beautiful beaches and coves
–       Eating out and Maltese food
–       Accommodation in Malta
–       Travelling to Malta on a budget
–       Events in Malta
–       Practical information
–       Tourist map of Malta
The little extras of this guide
✔ All my expat secrets in Malta, which you won't find in other guides!
✔ All information gathered in one place.
No need to do hours of research to organize your trip, while being afraid of missing something!
✔ A program adapted to the length of your stay, thanks to the itineraries for a trip of 3 to 7 days.
✔ A detailed chapter with all boat tours.
✔ A guide that fits in your pocket!
The PDF format can be easily accessed on your mobile. Don't burden yourself with a paper guide!
✔ Clickable table of contents and links.
Quickly find the information you need!
Practical: the clickable links allow you to visit some websites for more information (ferry schedules, restaurants, etc.).
75-page guide
Beautifully illustrated with photos
Download in PDF format