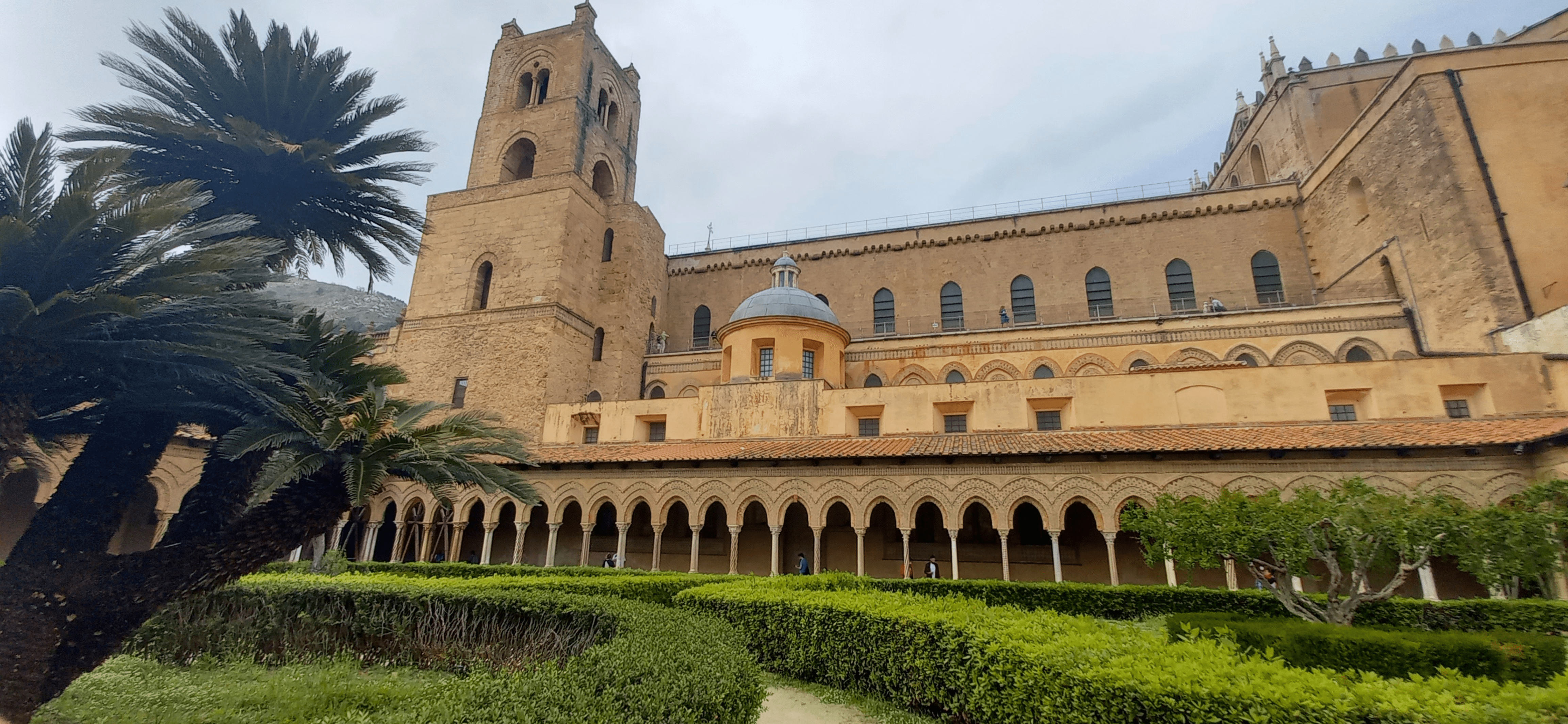 Visit Western Sicily: Road Trip, Itinerary, Must-Sees
In May, we went on a road trip to visit western Sicily. Itinerary, must-sees, things to do and see… I share with you this beautiful trip and my tips to organize your road trip in western Sicily.
For this trip as a couple, we set off from Malta, where we live. Sicily is only 90 kilometres north of Malta, making it the perfect cheap and easy destination.
We only had to fly half an hour over the Mediterranean Sea to land in Trapani and start exploring western Sicily.
Come on, I'll take you on a 5-day, 4-night road trip with us!
Andiamo!
We planned our road trip only a week in advance. We were looking for a romantic getaway and found cheap flights to Trapani using the flight comparison site "anywhere" function.
Our road trip was organised around the two cities of Palermo and Trapani, where we stayed.
Palermo, the capital of Sicily, is renowned for its rich heritage and architecture testifying to the different civilizations that have succeeded one another.
Lively and cosmopolitan, Palermo really charmed me during this Sicily road trip.
We began our visit in Piazza Quattro Canti ("Four Songs"), located at the intersection of Palermo's two main streets, via Vittorio Emanuele (the street where the cathedral is located) and via Maqueda (leading to the Teatro Massimo). This baroque-style square is punctuated by four buildings with concave facades decorated with fountains and statues on three levels.
Just a stone's throw away is Piazza Pretoria, where the beautiful Pretoria Fountain, adorned with statues, stands.
The Chiesa di Santa Caterina, a magnificent Baroque church, is a must-see. Other churches to see during a tour in Palermo are: the Chiesa di San Cataldo, the Chiesa Santa Maria dell'Ammiraglio (or Martorana, in Byzantine-Norman style) and the Chiesa del Gesù.
Then you have to walk through a maze of typical streets to reach the authentic Ballarò market. Local atmosphere guaranteed! We took the opportunity to sip a fresh pomegranate juice and buy some souvenirs.
Then we went to the Normans' Palace and the Normans' Cathedral. We passed by the church of Saint Jean des Ermites, remarkable for its Arab-Norman architecture.
The Palazzo dei Normanni, or Royal Palace, is another must-see in Palermo. I recommend visiting the interior, especially for its magnificent Palatine Chapel decorated with Byzantine mosaics.
Nearby is Palermo Cathedral. While visiting it, you can climb to the roof and admire the view overlooking the city.
Pass through the beautiful Porta Nuova which leads to Piazza Indipendenza.
To complete your visit, here are some other monuments to see in Palermo:
–          Teatro Massimo Vittorio Emanuele
–          Teatro Politeama
–          Palace of the Zisa
–          Catacombs of the Capuchins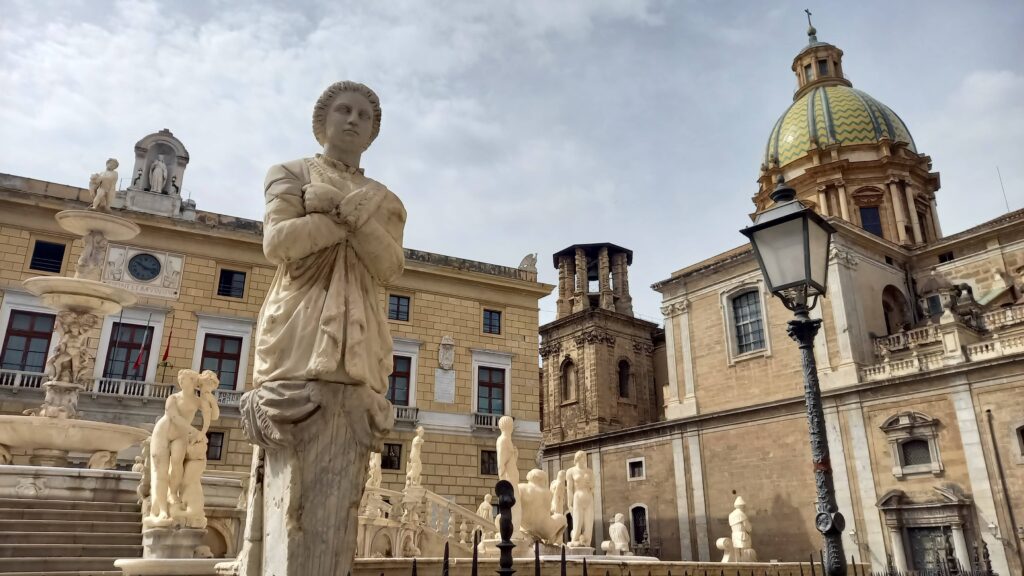 The visit to Monreale is a real favourite of this road trip in western Sicily! This village, perched on a hill overlooking Palermo, has everything to offer: magnificent monuments, beautiful nature, panoramic views and a touch of dolce vita.
When you arrive in Monreale, take the time to admire the panoramic view of Palermo and let your gaze wander somewhere between nature, city and sea.
The must-see in Monreale is its cathedral. The Cathedral of Santa Maria Nuova of Monreale (Duomo di Monreale) contains beautiful golden Byzantine mosaics. Your visit will continue on the roof of the cathedral, where you will enjoy breathtaking views of the surroundings, before ending in the cloister.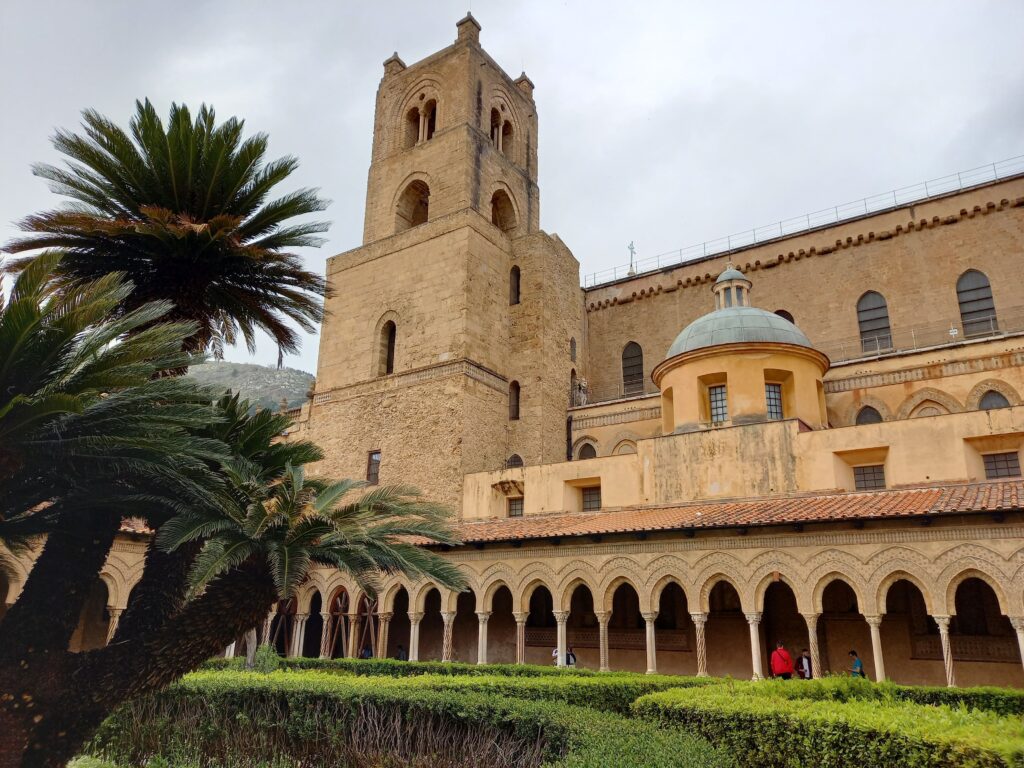 Do you like archaeological sites? Then Segesta is for you! Located on the road between Palermo and Trapani, Segesta was an obvious stop on our road trip to western Sicily.
The temple is a must-see on this tour. It is very well preserved.
The site of Segesta also includes an amphitheatre. Take the time to sit on the steps and admire the surrounding landscape. You can almost imagine the performances that took place in ancient history!
One of the interesting things to see on the site of Segesta is the surrounding nature. The temple and the amphitheatre lie in a natural setting surrounded by mountains.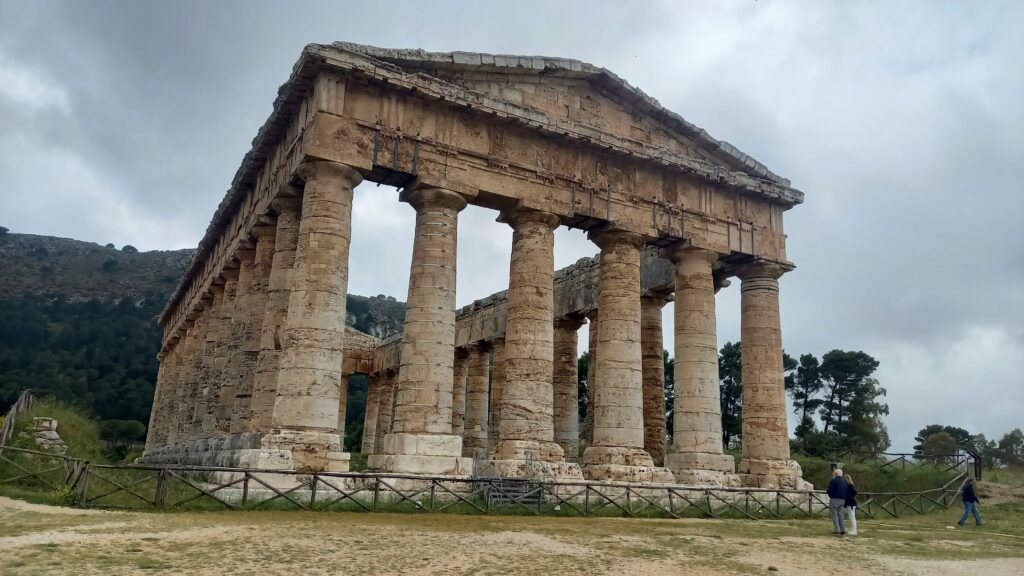 Less well known than Palermo, Trapani is nevertheless an excellent stopover during a road trip in western Sicily.
We fell in love with this small Sicilian town. The relaxing atmosphere, in contrast to the hustle and bustle of Palermo, made us feel at home.
Here are the must-sees in Trapani:
–          San Lorenzo Cathedral
–          Torre dell'Orologio (Clock Tower)
–          Palazzo Senatorio (Palazzo Cavarretta)
–          Santuario di Maria Santissima Annunziata
–          The walk along the walls of Trapani, along the sea
–          Torre di Ligny
–          Museo Pepoli
At the port of Trapani, you can find ferries and boat trips to the Aegadian Islands.
I strongly advise you to combine your visit to Trapani with that of Erice.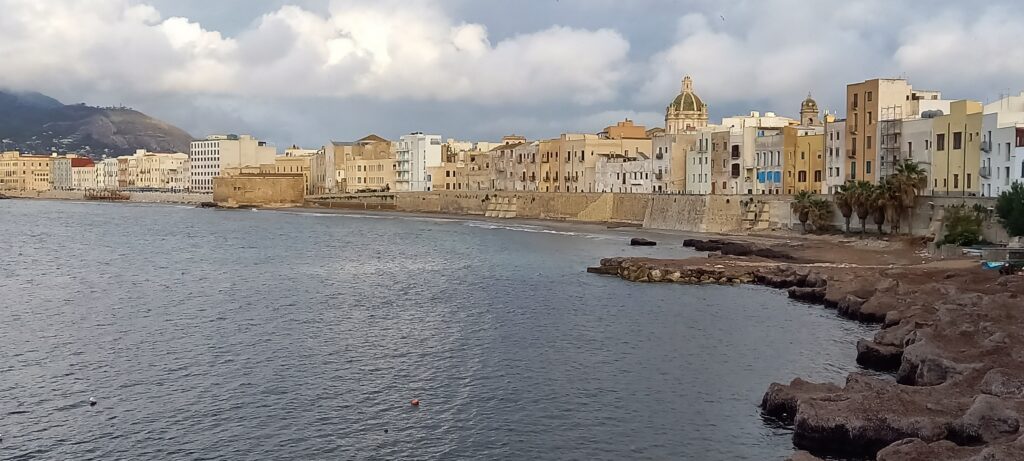 Erice is a must-see on a road trip to western Sicily. Perched on a mountain overlooking Trapani, this little gem enchanted us.
It is possible to get there by cable car (Funivia) from Trapani. This option is ideal for enjoying the breathtaking views on the way up. Unfortunately, we were unable to take the cable car due to bad weather.
So we drove up to Erice in our rental car.
Erice is a charming medieval village located at an altitude of 750 metres above sea level. The fog when we arrived added to its somewhat mysterious atmosphere.
Here are the must-sees in Erice:
–          The entrance to Erice: the Porta Trapani
–          The Chiesa Madre di Santa Maria Assunta and its bell tower
–          The Duomo dell'Assunta
–          The Castello di Venere
–          Erice panorama
–          The Quartiere Spagnolo
From the ramparts, you can admire a breathtaking panorama of the Sicilian coast. At least, that's what we were told… The bad weather didn't allow us to fully enjoy it. The sky cleared up at the end of our visit, so we were still able to get an idea of the beauty of the view.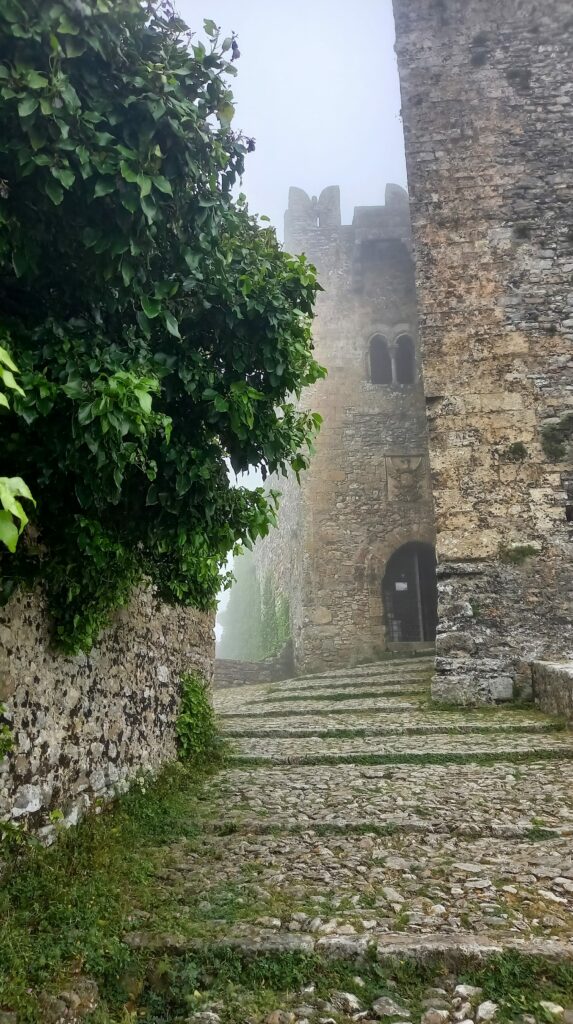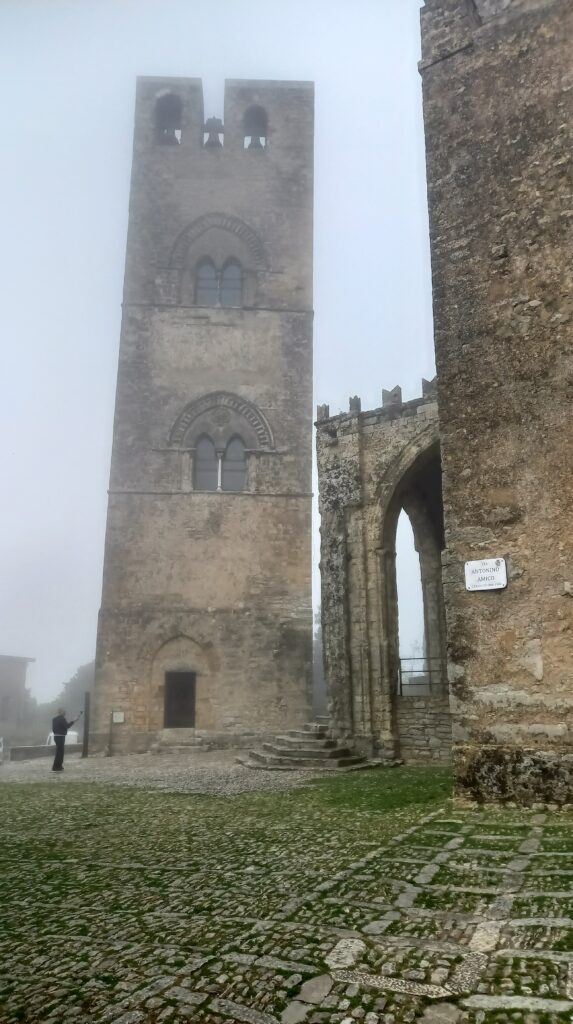 The salt pans of Trapani and Paceco
On the outskirts of Trapani, there are salt pans. This is an ideal place for nature walks. This nature reserve is dotted with windmills.
The salt pans take on a pinkish hue at sunset. Unfortunately, the weather only turned really nice on the last day of our road trip. We were therefore unable to admire this spectacle.
Our walk through the salt marshes was a peaceful stop on our road trip. We walked through the Salina Calcara in Nubia.
My advice: If you can, go to the salt pans of Trapani and Paceco at sunset. The landscape is magical. The sun tints the salt marshes in many shades, highlighted by the dark silhouettes of the windmills.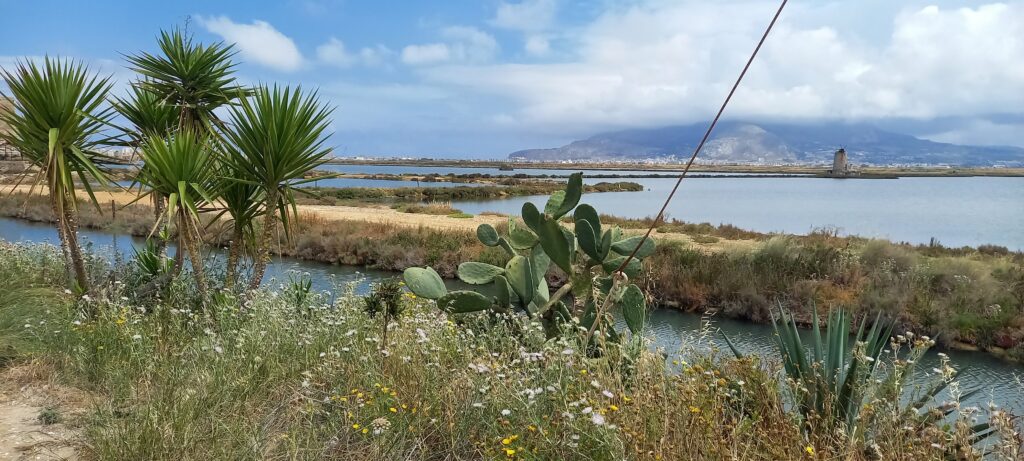 After our walk through the salt pans, we headed to Marsala.
We found this small town on the Sicilian coast beautiful, clean and pleasant.
Here are the things to see in Marsala:
–          The Chiesa Madre Parrocchiale di San Tommaso Canterbury, the most important religious building in Marsala
–          La Chiesa del Purgatorio (we ate our sandwiches sitting on the bench in front of its beautiful baroque façade)
–          Porta Garibaldi, which leads to the sea
–          La Porta Nuova
–          Via XI Maggio (called il Cassaro), a very typical pedestrian street
Finally, we returned to Trapani airport, where our road trip in western Sicily ended.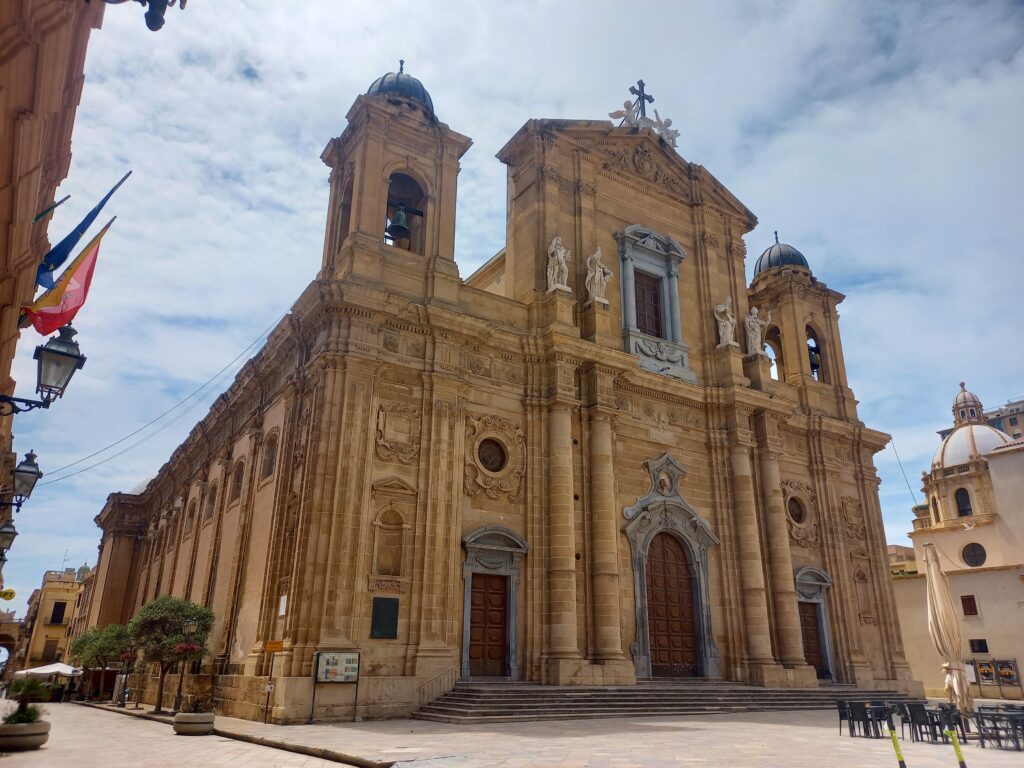 Other possible stops for a road trip in western Sicily
Unfortunately, this 5-day road trip was not enough to explore all the treasures of western Sicily. We had to make choices, taking into account the time available and the weather.
We chose to do less but to enjoy each stop more, in a slow travel perspective.
Here I give you other possible stops to organize your road trip in western Sicily.
And who knows, maybe this list will help me plan a future itinerary in western Sicily.
Coves lined with turquoise waters, charming little streets and exceptional views of the Mediterranean Sea: Scopello is an essential stop on a road trip in western Sicily.
This small Sicilian village is particularly famous for its Tonnara. This is the place where traditional tuna fishing took place (hence the name).
Another element that makes Scopello unique is the vertical rocks (Faraglioni) rising from the clear waters.
During your visit to Scopello, I recommend that you admire the view of the village and the sea from the heights, stroll through the historic centre and then swim in a cove.
The Zingaro nature reserve
The Zingaro nature reserve is located not far from Scopello.
During your road trip in western Sicily, you can therefore plan a day combining the discovery of Scopello and Zingaro.
If you like nature walks, the Zingaro reserve will enchant you.
There are several trails, including one that runs along the coast for 7 kilometres. Ideal for combining hiking and swimming breaks in the turquoise coves!
The reserve has two entrances, a northern one (San Vito Lo Capo) and a southern one (Scopello). The entrance fee is 5 euros (there are reduced rates).
San Vito Lo Capo is a small seaside town on the northwestern tip of Sicily.
It is known for its beautiful beach. The impressive Mount Monaco rises in the background. It offers a beautiful contrast to the white sand and turquoise water.
Include a stop in San Vito Lo Capo during your Sicily road trip to enjoy a relaxing day at the beach.
The Aegadian Islands: Favignana, Levanzo and Marettimo
During our road trip in western Sicily, we, unfortunately, did not have time to visit the Aegadian Islands. And yet, our bed & breakfast in Trapani was very close to the port and the ferry terminal.
There are three Aegadian islands: Favignana (the largest), Marettimo and Levanzo (the wildest).
If you are visiting Trapani, I recommend that you plan a day trip to the Aegadian Islands. You can also spend a night on one of the islands.
To discover the three islands in one day, I suggest you opt for a short cruise.
The Valley of the Temples of Agrigento
The Valley of the Temples in Agrigento is a must-see archaeological site in Sicily. Having visited it on a previous trip, I did not include it in our road trip to western Sicily.
The visit to the temples of Agrigento amazed me. The Temple of Concord is particularly majestic and well-preserved.
I strongly recommend that you include it in your Sicily itinerary.
Cefalù will probably be part of a future trip to Sicily.
It is a small coastal town, located 70 kilometres east of Palermo.
Cefalù is known for its Norman-style cathedral (duomo), perched on the heights.
Mazara del Vallo is located on the coast, 30 minutes drive from Marsala.
This small Sicilian town may not be the first stop on your road trip to western Sicily.
However, the Del Santissimo Salvatore cathedral is worth a visit. Its baroque paintings and ornaments are magnificent.
Selinunte Archaeological Park
On the southwest coast of Sicily, Selinunte is home to an archaeological park.
Although the temples seem less well preserved than in Segesta and Agrigento, the view of the sea adds a magical touch to the place.
Where to stay on a road trip in western Sicily?
On our road trip to western Sicily, we decided to spend two nights in Palermo and two nights in Trapani.
Having only brought backpacks that fit under the seat on the plane (we travelled with Ryanair), it was easy to move from one accommodation to another.
As we planned this road trip only one week in advance, the choice of accommodation was a bit more limited. We were still able to find some nice places to stay. We used the website Hostelworld.com, which I recommend to find accommodation.
In Sicily, there are several types of accommodation. You can choose according to your wishes and your budget: Bed & Breakfast and guest houses, youth hostels, hotels, flats and even villas and hotel boats!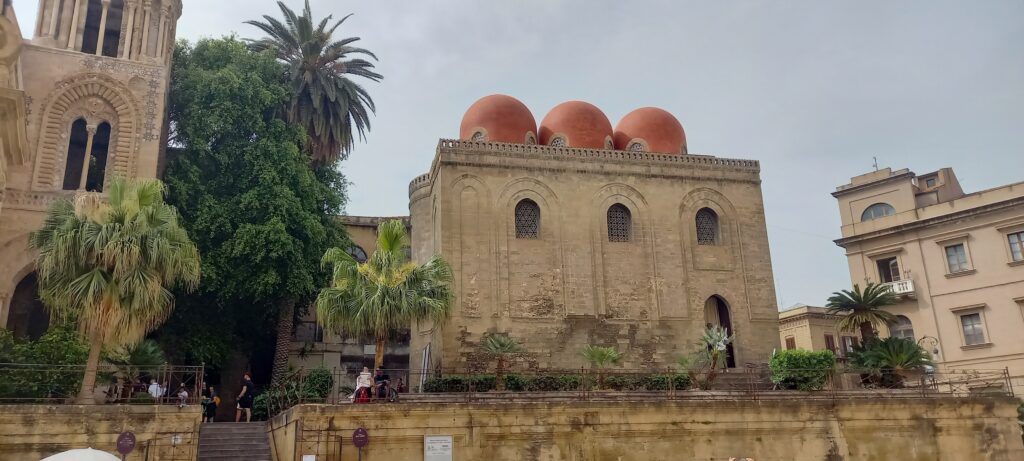 Where to sleep in Palermo?
In Palermo, we chose to sleep in a Bed & Breakfast.
I recommend this option for several reasons:
–          Meeting with local people brings an authentic touch to the trip.
–          Your host will be happy to share tips, tricks and good addresses for visiting his city.
–          It is ideal for practising a foreign language with a native speaker!
We spent two nights at the Bed & Breakfast alla Vucciria.
Claudio, our host, was very welcoming and friendly. He gave us a map of Palermo and took the time to explain how to organise our visit.
Please note: breakfast and Wi-Fi are not included.
The accommodation was well located. Its location allowed us to explore Palermo on foot easily. The only downside is that the bar on the street is quite noisy.
Once again, we chose a Bed & Breakfast to sleep in Trapani.
I highly recommend Bed & Breakfast Casalicchio.
We fell in love with this accommodation in Trapani. It is ideally located, a stone's throw from the port and close to the historic centre.
Fiodor (the host) is very friendly and welcoming. We were even treated to some delicious Sicilian pastries for breakfast.
The little extras:
–          Free bicycles to explore Trapani.
–          The beautiful decoration, with colourful pictures evoking Sicily.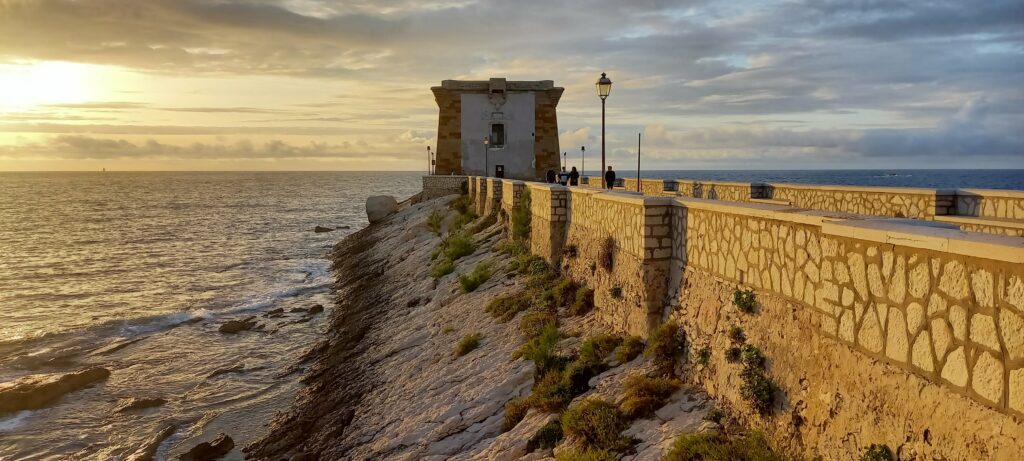 Where to eat? Culinary specialities and restaurants in western Sicily
Sicily, like Italy in general, is known for its gastronomy.
Here is a quick overview of the culinary specialities of western Sicily, as well as the restaurants and other places we tried.
Culinary specialities of western Sicily
Our road trip to western Sicily was an opportunity to try some of the Sicilian specialities.
Panelle are the stars of street food in Palermo. As a vegetarian with a vegan tendency, I particularly enjoyed finding these fried fritters made from chickpea flour everywhere.
Trapani is known for its couscous alla trapanese (with fish), busiate alla norma (pasta with aubergine, tomatoes and sometimes cheese) and pesto alla trapanese.
Nearby Trapani, Erice is famous for its delicious genovesi ericine (pastries filled with pistachio, cream, chocolate or ricotta).
We also find the culinary specialities of Sicily in general:
–          Crocchè (croquettes)
–          Arancini (rice balls, fried and stuffed)
–          Caponata (aubergine antipasti)
–          Cornetti al pistacchio (a kind of croissants with pistachio filling)
–          Cannoli filled with ricotta cheese
–          Cassata siciliana (sponge cake with ricotta and candied fruit)
–          Pasta reale or pasta di mandorle (almond pasta, some are fruit-shaped)
–          Granita con brioche (a kind of sorbet with a brioche, traditionally eaten for breakfast)
–          Cassateddi (sweet ravioli with ricotta filling)
–          Chinotto (soda made from chinotto, a citrus fruit)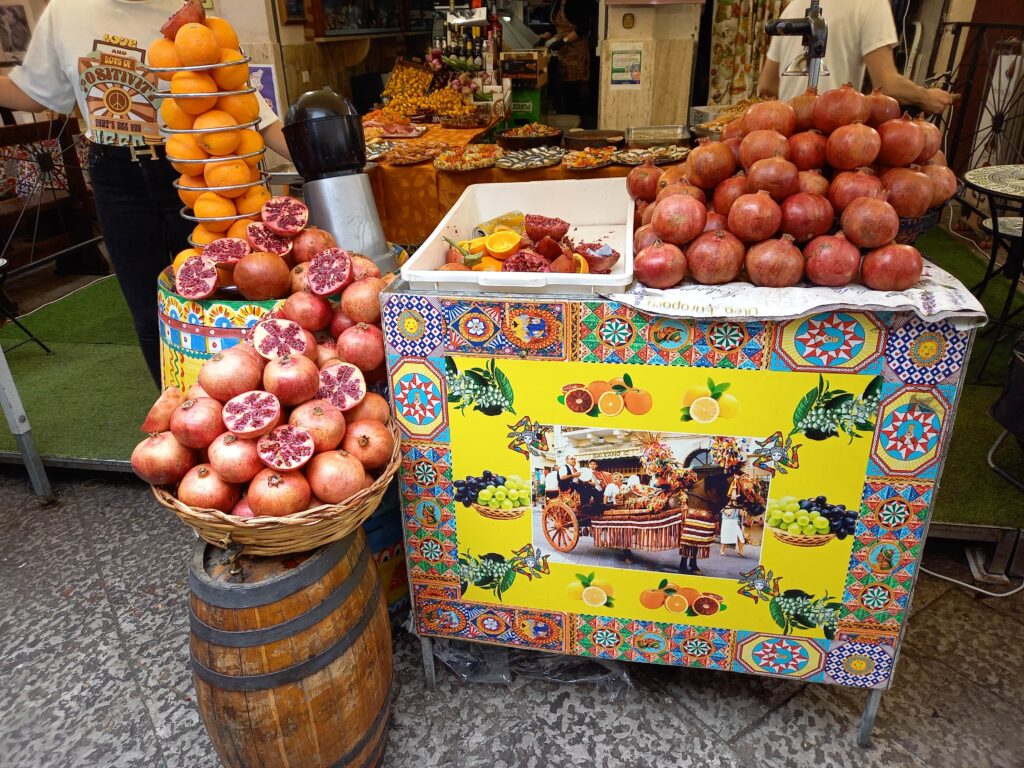 Where to eat in western Sicily?
During our road trip in western Sicily, we tried out some nice vegetarian/vegan-friendly places.
In Palermo :
–          Mercato alla Vucciria: the permanent market downstairs from our Bed & Breakfast
–          Mercato di Ballarò: the permanent and unmissable market in Palermo
–          KePalle – Arancine d'Autore: famous street food restaurant (Via Maqueda, 270)
–          Makè Food Drink and More: cafeteria serving sweet and savoury food (Via Maqueda, 307)
–          Bangla Fast Food: good and really cheap Bangladeshi restaurant (Via Maqueda, 142)
In Monreale :
–          Al Matteotti Lounge bar: a cheap bistro where we had a vegetarian panino and a vegetable bruschetta (Piazza Giacomo Matteotti)
In Trapani :
–          Dar el Medina: Sicilian and Arabic fast food (Viale Regina Margherita, 19)
–          Locanda dei Poeti: a vegan restaurant with a cosy atmosphere. I ate delicious vegan lasagne there (Via Giuseppe Garibaldi, 52).
In Erice :
–          Pasticceria Maria Grammatico: Erice's famous and much sought-after pastry shop (Via Vittorio Emanuele, 14)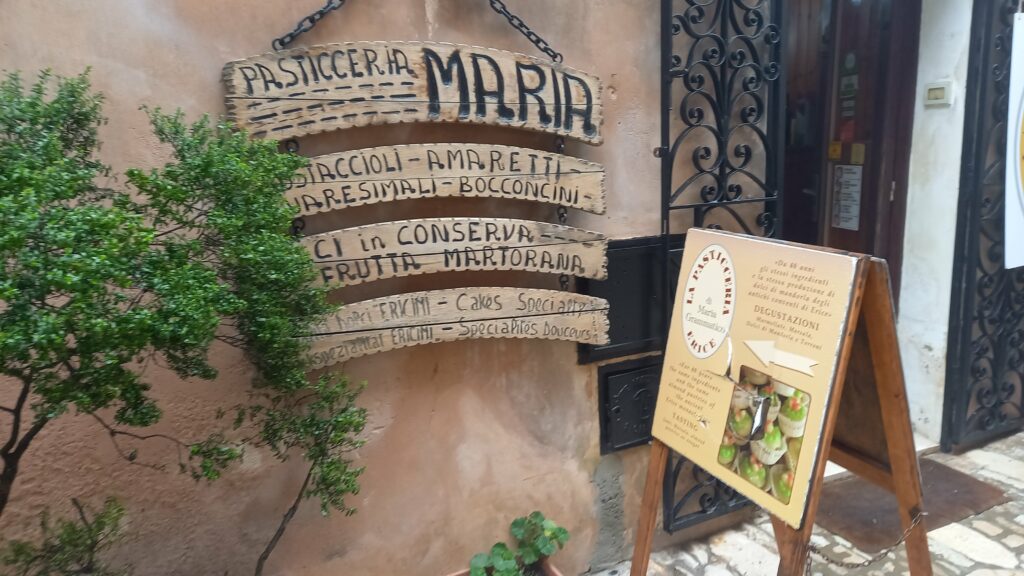 How to get around in western Sicily?
When we travel, we prefer public transport.
However, getting around western Sicily without a car is relatively complicated.
Outside the cities, buses are quite rare. As for trains, they do not have a very good reputation. Some places are almost not served by public transport, such as Segesta.
So we decided to rent a car and try our hand at Sicilian driving. This is how our romantic getaway turned into a road trip in western Sicily.
We enjoyed the freedom that the car provides.
We booked our car on the Rentalcars website before we left. It is also possible to rent a car directly from the airports in Trapani and Palermo.
Where to park in Sicily?
In Palermo, it is not easy to find a place to park. We parked not far from our Bed & Breakfast, at the (very typical!) Venezia car park.
During the rest of our road trip, we found parking easily and at very low prices.
In Trapani, I recommend the Piazza Vittorio Emanuele car park.
My advice: beware of ZTL!
ZTL (Zona a Traffico Limitato) are a nightmare for tourists. These are zones reserved for residents. Entering them without permission is liable to a fine.
But if you think you have entered one of them, don't panic! Go to the nearest tobacconist's to buy the "pass", the key to cancelling the fine. For €5, you will get a code to send by text message with your number plate.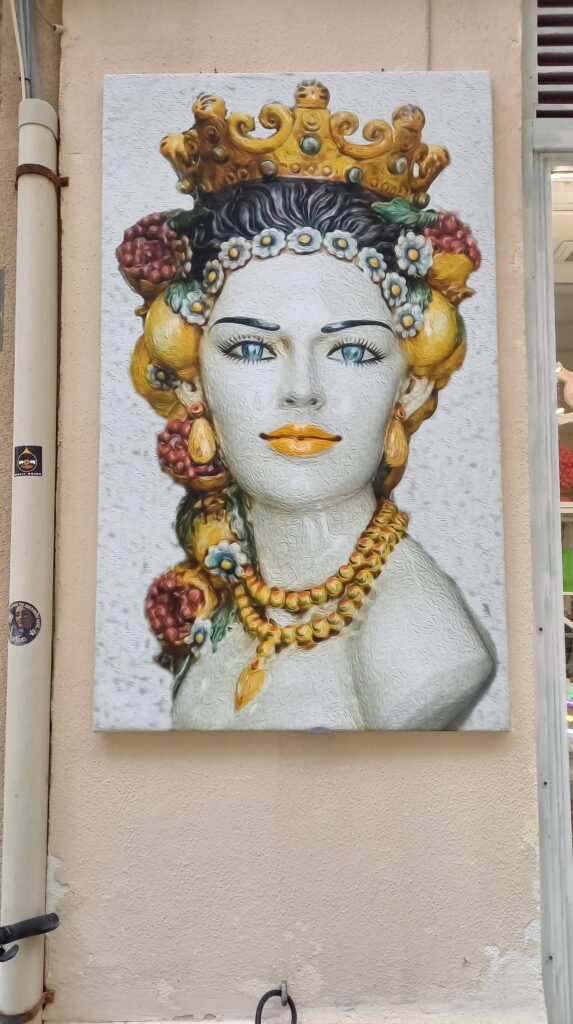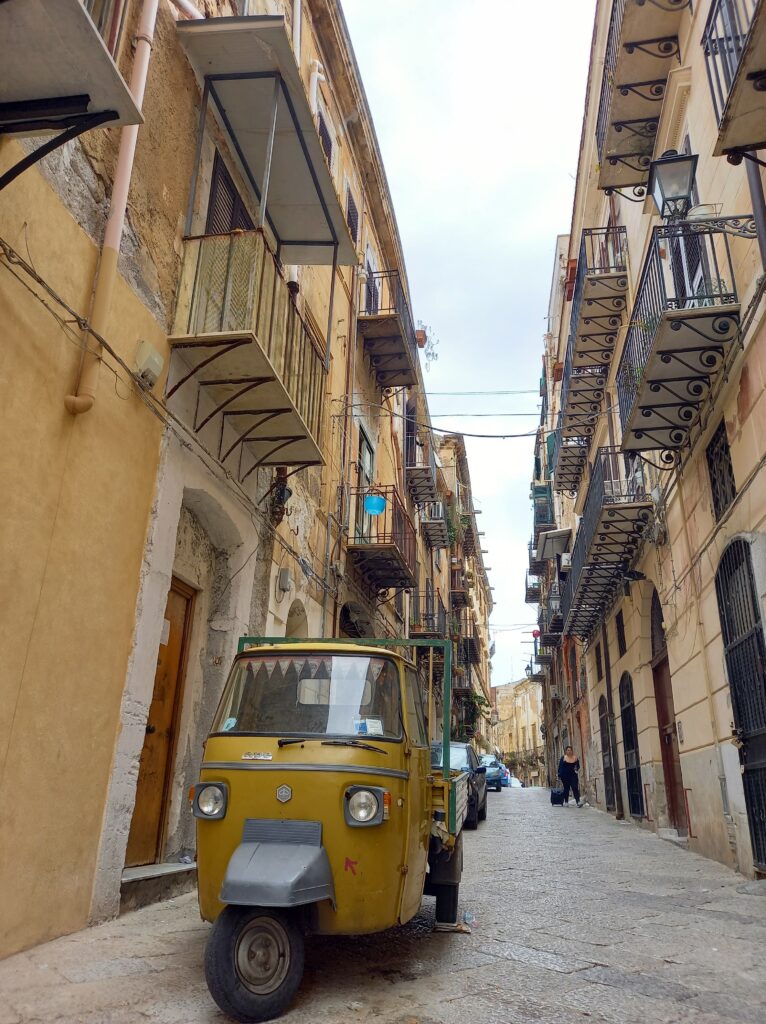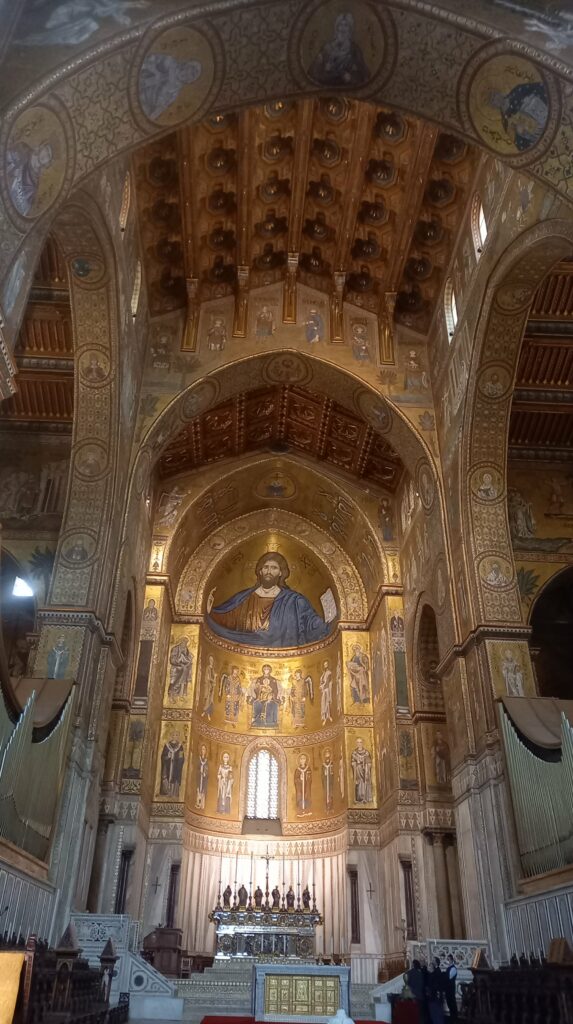 Visiting western Sicily on a budget
Here are some tips for visiting western Sicily on a budget:
–          Travel in low season
–          Use flight and accommodation comparison sites
–          Prepare your sandwiches in advance and take them with you on your excursions (saves time and money!)
–          Find accommodation where you have access to a kitchen and prepare your own meals
–          Taste Sicilian street food
Practical advice for organising your road trip in western Sicily
Finally, I'll give you some practical advice for organising your road trip in western Sicily:
–          When driving, have an alert co-driver. He/she will be your second pair of eyes and GPS.
–          In Palermo, buy your bus tickets at the tobacconist's (they don't always sell them on the buses).
–          Do you think you have entered a ZTL? Go to the tobacconist's and buy your pass!
–          Take home souvenirs of Sicilian handicrafts. Sicily is famous for its beautiful, colourful ceramics. Monreale is particularly well known for this.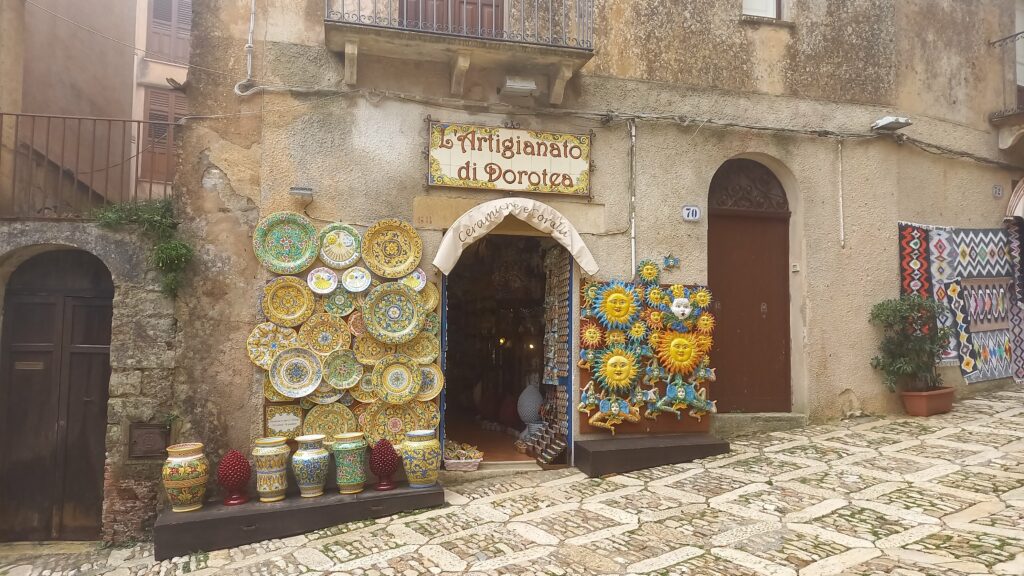 And that's it! I hope I've inspired you to organise your own road trip in western Sicily!
I enjoyed this trip so much that I hope to organize another one, stopping at places I didn't have the opportunity to visit during these 5 days in Sicily.
Did you like this blog post? Pin it!