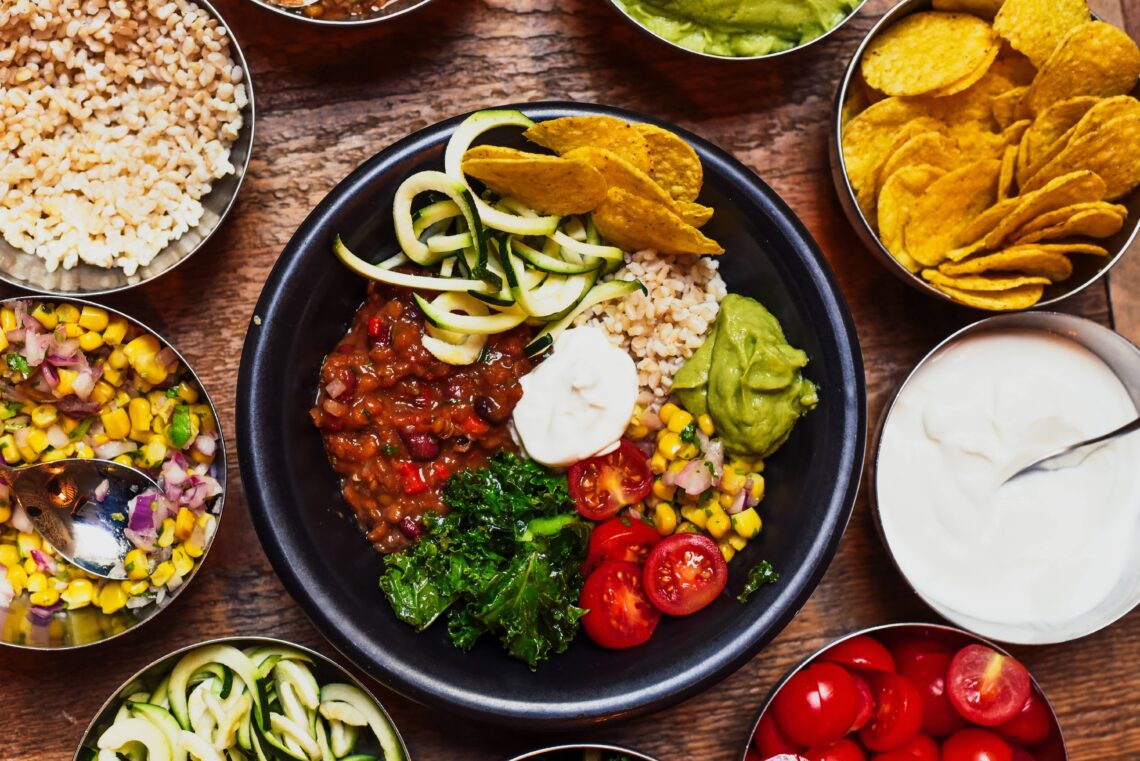 My Top 10 Vegan Dishes from Around the World
For some time, the global pandemic has not allowed us to travel as we wish to. So I've been looking for ways to escape my daily life and travel a little bit in other ways, such as learning foreign languages (although this passion is much older than the pandemic) or world cuisine. Travelling is also about the taste buds.
In this article, I'm presenting my top 10 vegan dishes from around the world.
Why vegan?
I am a vegetarian with a strong vegan tendency, for several reasons (which I will perhaps detail in a future article). Being interested in the vegan specialities of certain countries also allows you to get off the beaten track and discover new flavours, especially in countries where the food is traditionally quite meaty (France, Spain, for example).
So fasten your seatbelts, get your taste buds ready, we're going to take off to culinary destinations, each one more appetizing than the last!
1 – Syria: hummus, mutabal and falafel
The first country where my food makes me travel is Syria. The dishes (yes, I couldn't limit myself to just one, it was too hard to choose) that I'm going to present to you are in fact widespread throughout the Middle East.
Hummus (also called msabaha)
Hummus is quite famous. It is a cream made of chickpeas mixed with tahini (or sesame puree), some spices (cumin, coriander, garlic, possibly others), a little lemon juice and olive oil. Enjoy this dish with pita or flat bread.
Mutabal, or aubergine caviar
The second Middle Eastern speciality I want to introduce you to is less known. Mutabal is a cream made of aubergines, again with tahini, some spices, a little lemon juice and olive oil.
Falafels
Finally, falafels are becoming increasingly well known and are being used in vegan cuisine. These are dumplings made of legumes and possibly vegetables. The perfect alternative to meatballs! The original version consists of chickpeas, herbs (parsley, coriander), olive oil, cumin, a little garlic and onion.  Vegan cuisine took up this recipe and created other versions that are just as tasty: with beans, vegetables, different spices. There is something for everyone!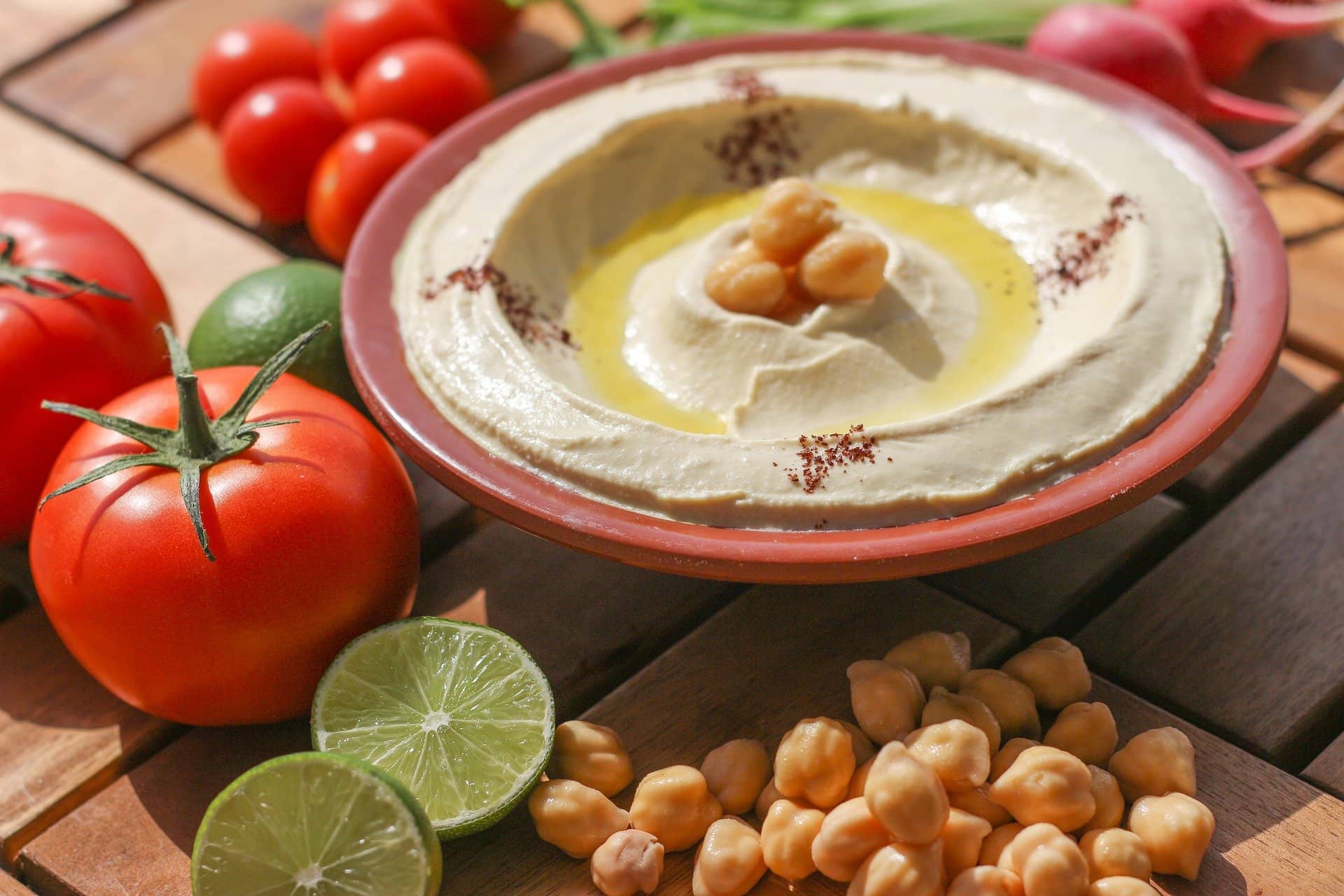 2 – India: the curry
As I told you in a previous blog post, it was my trip to India that made me aware of the variety of vegetarian cuisine.
The essential Indian dish is curry. There are different kinds of curries, some vegetarian and some vegan, others not. Curry is a mixture of spices including, for example, turmeric (which gives the mixture that beautiful orange-yellow colour), cumin, coriander, cardamom, pepper.
I'm going to give you my favourite vegan curry recipes.
Chickpea curry
Take some chickpeas (canned or boiled by yourself), add some vegetables of your choice (carrots, aubergines, courgettes, potatoes…), a can of crushed tomatoes, olive oil, spices and cook it all in a casserole.
You can serve this curry with basmati rice.
Coral lentil curry
Coral lentils, spices, olive oil, tomatoes and coconut milk. That's all it takes to make a comforting dish that will take you on a journey to the land of the Maharajahs!
3 – Thailand: pad thai
Pad Thai (or pat Thai) is a traditional Thai dish. It is emblematic of "street food" and is very popular with tourists. Like curry, some are vegetarian or even vegan, others are not (because they contain chicken, shrimp, etc.).
The vegan version consists of rice noodles, firm tofu, vegetables, bean sprouts or mung beans, topped with peanuts (personally I use a little bit of crunchy peanut butter), soy sauce and spices.
4 – Mexico: guacamole, tacos, fajitas, burritos
Next destination: Mexico. Mexican cuisine contains a lot of meat. However, it offers some vegetarian and even vegan nuggets. Here again, it was difficult for me to choose only one culinary specialty.
Guacamole
Guacamole is a well-known dip. Made from mashed avocado with lemon juice and spices, it is easy to make at home.
Try it with corn tortillas (crips). Ideal for an aperitif! Guacamole can also be used in the following dishes.
Tacos and fajitas
The basic ingredient of tacos and fajitas is the Mexican tortilla. This should not be confused with the Spanish tortilla, which is a thick egg and potato omelet. It consists of a wrap made of corn flour.
As for the filling, you can be as creative as you like. A typical Mexican filling can consist of red beans, corn, peppers, tomato coulis and spices (especially chili and paprika). You can also opt for raw vegetables: lettuce, guacamole, tomatoes…
What is the difference between tacos and fajitas? Tacos are smaller than fajitas and are garnished with coriander and a squeeze of lime.
Burritos
Unlike tacos and fajitas, burritos are made from a large wheat (not corn) tortilla.
They are filled with a variety of ingredients. My vegan versions of burritos include the same fillings as tacos and fajitas.
5 – Japan: Gyozas
My food sometimes takes me to Japan. I recently discovered gyozas, which are Japanese ravioli.
They are often filled with pork. The vegan version is filled with vegetables and tofu.
Serve the gyozas with a dipping soy or hot sauce.
6- Italy: pasta, pizza, risotto, lasagne
Italian specialities are very popular throughout the world. While some of them contain meat, it is easy to make a vegetarian version. While it may seem a little trickier to find vegan dishes in Italian cuisine, most traditional dishes can be adapted. It is particularly easy to do this at home. Especially, cheese can be replaced with vegan cheese (homemade or not) or simply omitted.
Pasta
Pasta? You might say: "This is not the dish that will make me travel, I cook pasta every time I don't have the time to cook or I'm lazy to do so". True, but the Italian flavours are very present in the possible seasonings: pesto, fresh basil, tomatoes, etc.
The pizza
The vegan version of pizza is all about vegetables. Mushrooms, peppers, olives, aubergines… the pizza adapts to your desires.
Risotto
Risotto is a creamy rice. I like to add mushrooms or courgettes to it.
Lasagne
Although lasagne is not traditionally a vegetarian or vegan dish, it can be adapted. The minced meat can be replaced with textured soy protein, for example.
7 – Spain: patatas bravas and gazpacho
Head to Spain, to brighten up your plate!
When I go to Spain, I love to eat patatas bravas and gazpacho.
Patatas bravas
This is one of my favourite tapas. They are cubes of potato fried in olive oil, dipped in a spicy tomato sauce, the salsa brava (literally, the brave sauce, because you have to be brave to eat this spicy sauce!)
Gazpacho
A refreshing summertime appetizer, gazpacho is a cold soup made with tomatoes, cucumber and bread.
8 – Greece: the moussaka
Now let's go to Greece!
Moussaka sometimes contains minced meat but, as with lasagne, it can be replaced by textured soy protein. Moussaka also contains aubergines, tomatoes and a white bechamel-type sauce, which again can be made without animal ingredients (you can find a recipe here).
9 – France: the quiche
Yes, I am including my country in my top vegan dishes from around the world! This is for two reasons: firstly, when you are a French living abroad, French specialities become exotic (yes); secondly, it is likely that you are not French and that French cuisine, therefore, seems "exotic" to you.
French cuisine is very meaty, but it is also possible to make it vegetarian or even vegan.
One recipe that I love to veganize is quiche. I make the quiche mixture with silken tofu and plant-based cream. I add vegetables, such as courgettes, peas or carrots, before pouring it all onto a shortcrust pastry and putting it in the oven (recipe here).
10 – Morocco: Vegetarian couscous
We end this little vegan culinary trip around the world with Morocco.
Couscous is made of wheat semolina (possibly with sultanas), vegetables and chickpeas cooked in a broth. I like to add falafel or vegan dumplings.
This is where my plate makes me travel!
I hope I have made your mouth water. I invite you to pick some ideas from this top 10 to make you travel too. You can enjoy these dishes in restaurants, have them delivered to your home or, even better, cook them yourself.
Did you like this blog post? Pin it!