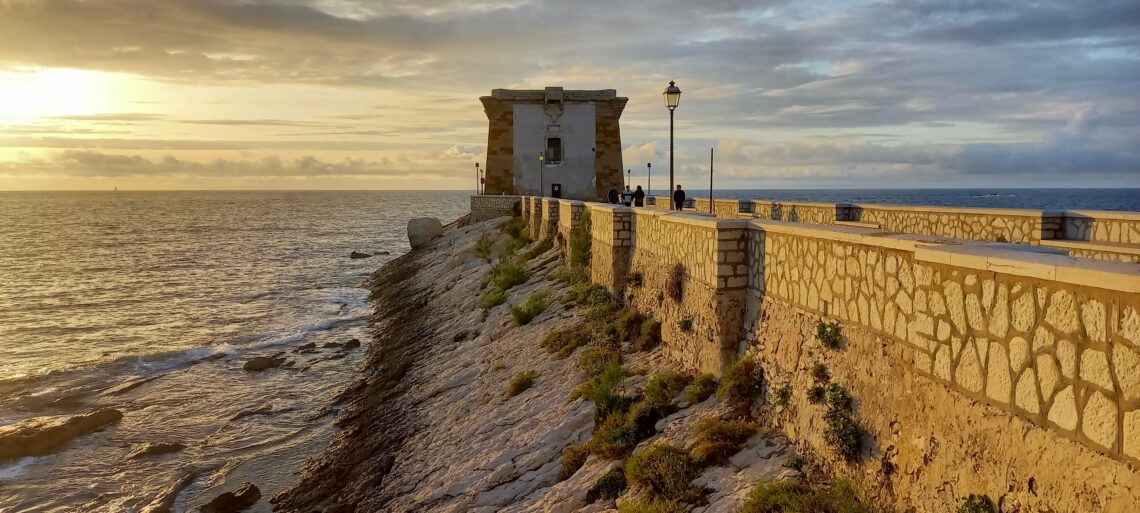 Visit Trapani in Sicily: my Top 5 Things to See and Do
Although Palermo is well known, I had never heard of Trapani before going on a road trip in western Sicily. It was a great discovery! I loved its relaxed atmosphere and lifestyle. The authentic Italian dolce vita!
Is visiting Trapani really worth it?
Yes, Trapani is worth a visit! It's a real favourite.
To prove it, here are my top 5 things to see and do in Trapani.
A visit to the historic centre of Trapani is a must.
I recommend parking your car in Piazza Vittorio Emanuele parking, which is very cheap.
The historic centre of Trapani is full of charm. It is easy to visit on foot.
Strolling through its typical streets, you can admire San Lorenzo Cathedral. Don't hesitate to push open the door of this baroque building to admire it from the inside. You can contemplate paintings, two marble altars, reliefs and other decorations representative of the baroque style.
When visiting Trapani, don't forget to look up! Can you spot the Torre dell'Orologio (big clock)?
Do not miss the Palazzo Senatorio (or Cavarretta). This elegant palace now houses municipal offices.
One of the best things to do in Trapani is to walk along the city walls. You'll walk along the sea and have beautiful views of the city. Perfect for taking pictures!
Walk to the Torre di Ligny. I went there at sunset: it was beautiful!
You can end your visit to Trapani with a stroll along the harbour.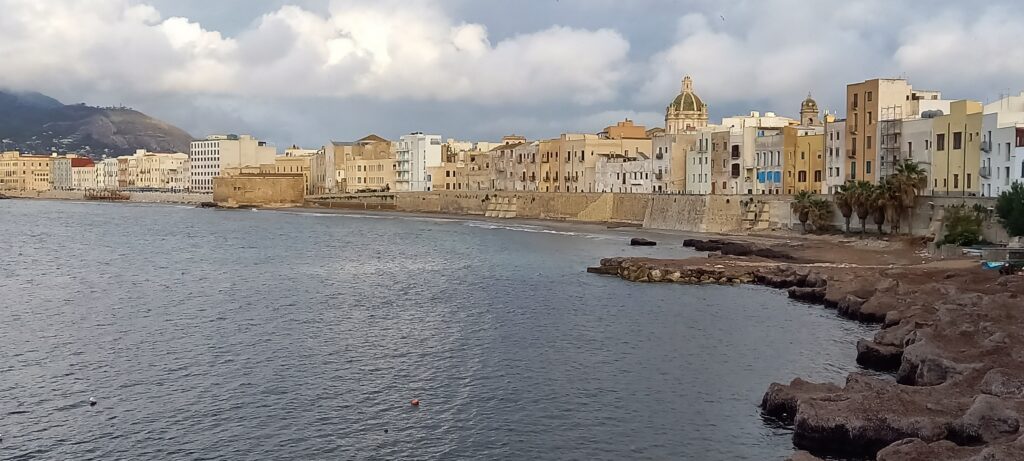 2° Erice, a medieval village perched on the heights of Trapani
Erice is a must-see when visiting Trapani in Sicily.
It is a medieval village perched on the heights of Trapani, at an altitude of 750 metres.
To get there from Trapani, I recommend taking the cable car (called Funivia). The ride takes 10 minutes and offers breathtaking views of Trapani and the Aegadian Islands.
Unfortunately, we could not try it because of the bad weather. The cable car was at a standstill, so we had to take our rental car.
When we arrived at the top, it was raining. We took refuge in a pizzeria until the rain stopped.
Then, as the weather improved a little, we were able to visit this charming medieval village. Stroll through the timeless cobbled streets. On the way, you can admire some monuments like the Porta Trapani, the Chiesa Madre di Santa Maria Assunta or the Duomo dell'Assunta.
The most striking feature for tourists is the magnificent panoramic view from the ramparts.
It must indeed be beautiful… when the weather is clear. Erice was shrouded in a thick fog when we visited. It was a bit like being in Scotland!
The fog did begin to lift, giving us a glimpse of Trapani and the Mediterranean Sea below.
We visited the ruins of a castle in Erice. I don't recommend it: we paid 6€ each to see some ruins without much interest. There are other things to see in Trapani and in Sicily that are much more beautiful!
If you have a sweet tooth, don't miss the famous pastry shop in Erice: Pasticceria Maria Grammatico. It sells Genovesi ericine, delicious little cakes filled with pistachio, cream, chocolate or ricotta.
In short, Erice definitely deserves to be in my top 5 things to see and do in Trapani!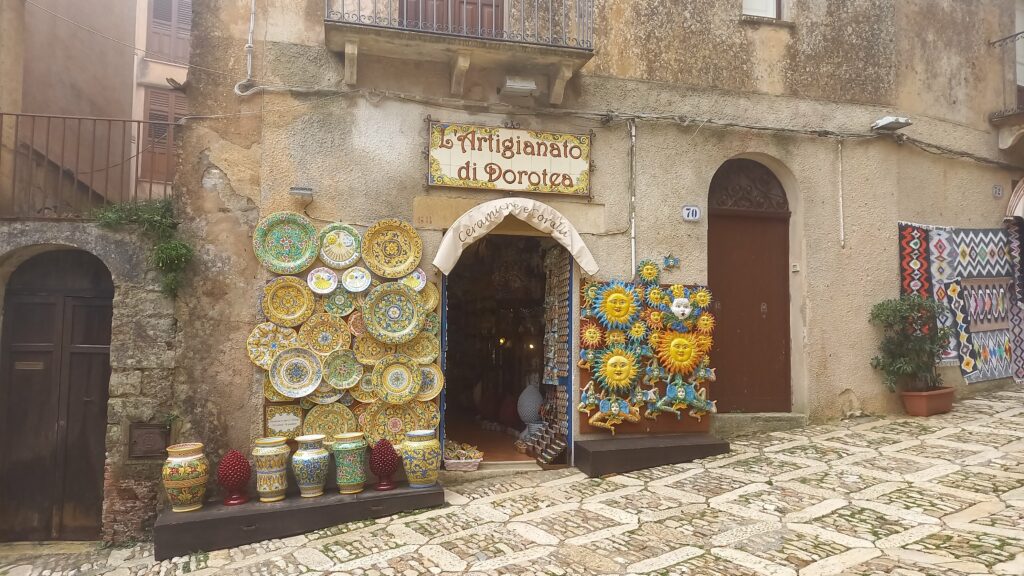 3° The Aegadian Islands from Trapani
Going to the Aegadian Islands is a must-do excursion from Trapani.
The Aegadian Islands (Isole Egadi in Italian) are an archipelago located off the coast of Trapani. There are three of them: Favignana, Levanzo and Marettimo.
If you're looking for a total change of scenery and turquoise water, the Aegadian Islands are a must-see!
I recommend spending a day on the Aegadian Islands. If you have more time, spend the night on one of them.
Which of the Aegadian Islands to visit?
Favignana is the largest and most popular of the archipelago. You can rent a bike and ride around the island. Don't forget your swimsuit! You will find some very nice swimming spots on your way.
You can also visit Levanzo. The smallest of the three Aegadian Islands is famous for its prehistoric cave.
Looking for a more private island? Head for Marettimo! It is the least touristy of the three Aegadian Islands.
If you are undecided, opt for a day cruise that will allow you to combine the visit to two islands.
How to get to the Aegadian Islands?
Ferries depart daily from the port of Trapani. Some ferries also connect the Aegadian Islands together.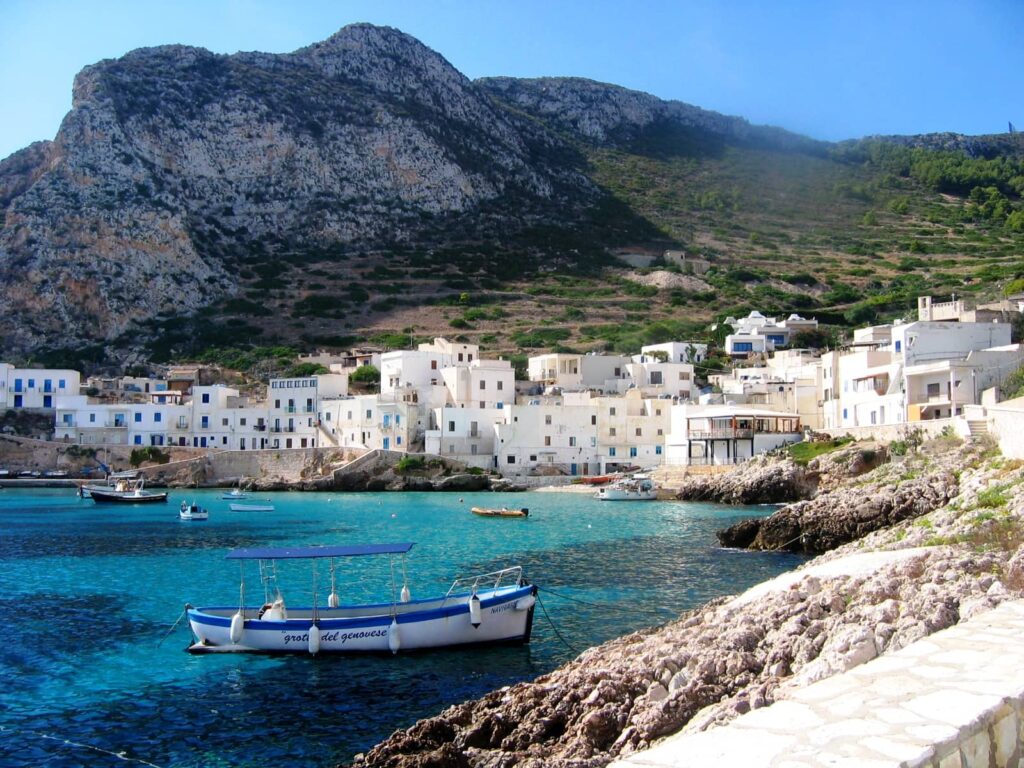 4° Visit the salt pans of Trapani and Paceco
Wondering what to do around Trapani? Visit the salt pans of Trapani and Paceco!
The salt pans stretch along the road between Trapani and Marsala. We were lucky to admire them on our way to Marsala, during our road in western Sicily.
The landscape is dotted with traditional windmills. Don't hesitate to stop at different places to take pictures!
The salt pans of Trapani and Paceco offer something different from the rest of Sicily. The place is quiet and peaceful.
Historically, Trapani is known for its salt production. Even today, some mills are used for artisanal production.
The salt pans of Trapani and Paceco are a nature reserve that hosts many birds.
At sunset, the salt pans take on a stunning pink hue. Unfortunately, we could not see it because of the bad weather.
5° Marsala and Mazara del Vallo, a top thing to see in the vicinity of Trapani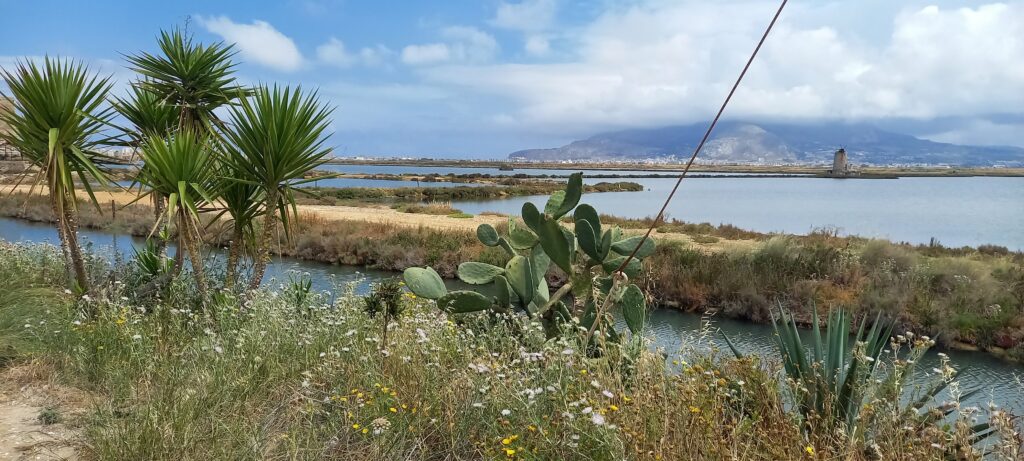 After visiting the salt pans of Trapani, continue to Marsala.
This small Sicilian seaside town was the last stop on our road trip in western Sicily, before returning to Trapani airport.
Marsala is worth a visit. It is a clean and pleasant town in Sicily.
We walked around the historic centre of Marsala and admired some of its monuments.
Not to be missed: the great church of Marsala called the Chiesa Madre Parrocchiale di San Tommaso Canterbury. It boasts typical Sicilian baroque architecture. We also saw another beautiful church: the Chiesa del Purgatorio.
After wandering through the narrow streets, we passed the Porta Garibaldi which leads to the sea.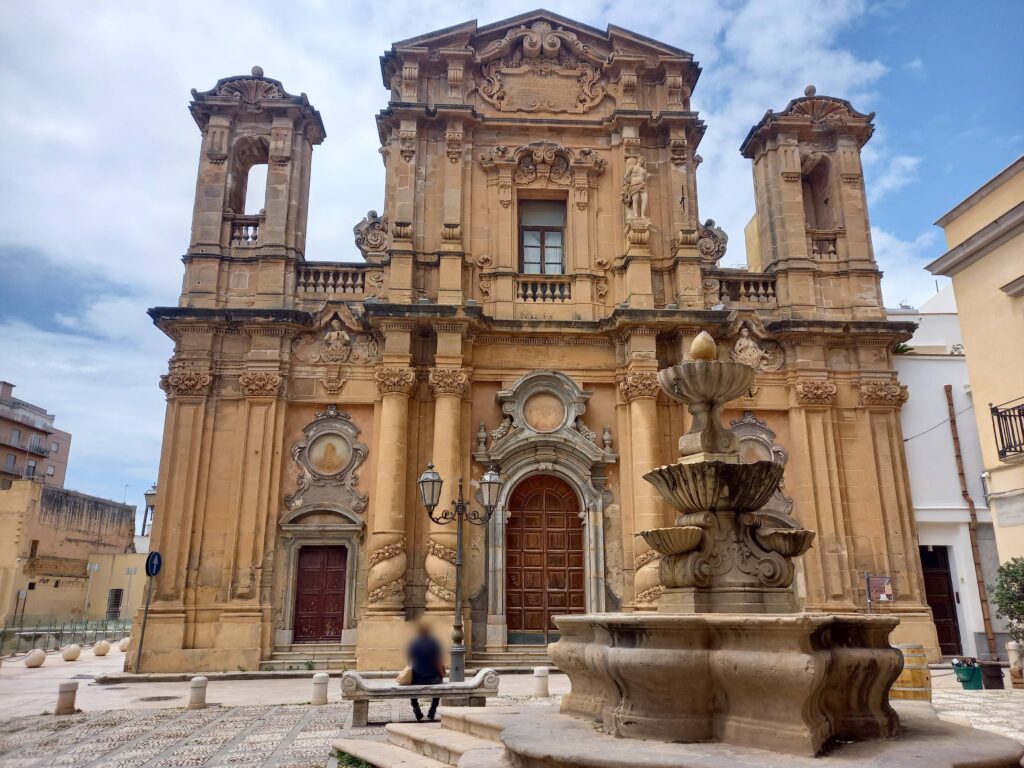 If you have time, continue to Mazara del Vallo, another small coastal town in Sicily. Mazara del Vallo is a perfect example of the different influences that have shaped Sicily: Arab-Islamic heritage sits alongside buildings built by the Normans. The whole is enhanced by some extravagant baroque churches.
The Cattedrale del Santissimo Salvatore is a must-see in Mazara del Vallo. This baroque monument is worth a visit. Don't hesitate to visit the interior of the cathedral.
The Chiesa di Francesco, with its richly decorated baroque interior, is also worth seeing.
Another must-see in Mazara del Vallo is the Kasbah. This Arab quarter will transport you to Tunisia! Wander through its maze of colourful alleys and stop to admire the ceramics decorating the facades.
You can finish your visit to Mazara del Vallo with a walk along the seafront.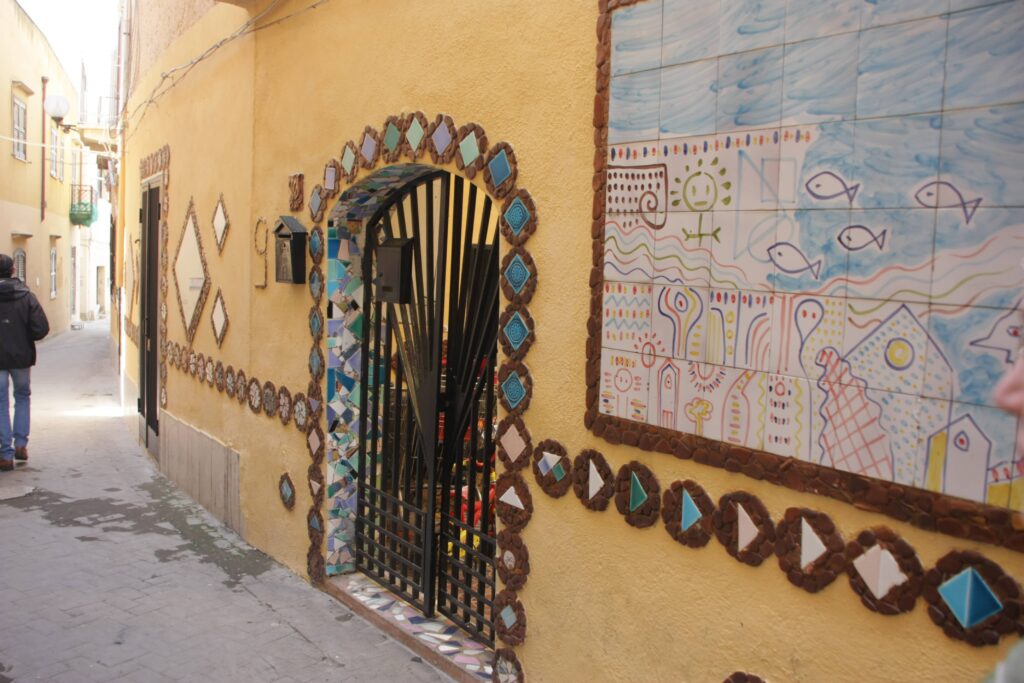 Where to stay in Trapani?
The best way to visit Trapani and discover the surrounding area is to stay in Trapani itself.
If, like us, you choose accommodation near the historic centre and the port, you won't even need a car to visit Trapani!
Personally, we chose the Bed & Breakfast Casalicchio. A real favourite! We got a very warm welcome. The rooms were clean and stylishly decorated. The breakfast was accompanied by delicious Sicilian pastries. Our host even lent us bicycles for free.
As I am learning Italian, the Bed & Breakfast was a good choice. It allowed me to practice the language while enjoying my stay in Sicily.
You can also stay in a hotel or rent a flat in Trapani.
I hope my top 5 things to see and do have inspired you to visit Trapani in Sicily!
I really enjoyed discovering Trapani and its surroundings, which I didn't know at all.
That's what travelling is all about: venturing off the beaten track and discovering treasures!
Did you like this blog post? Pin it!