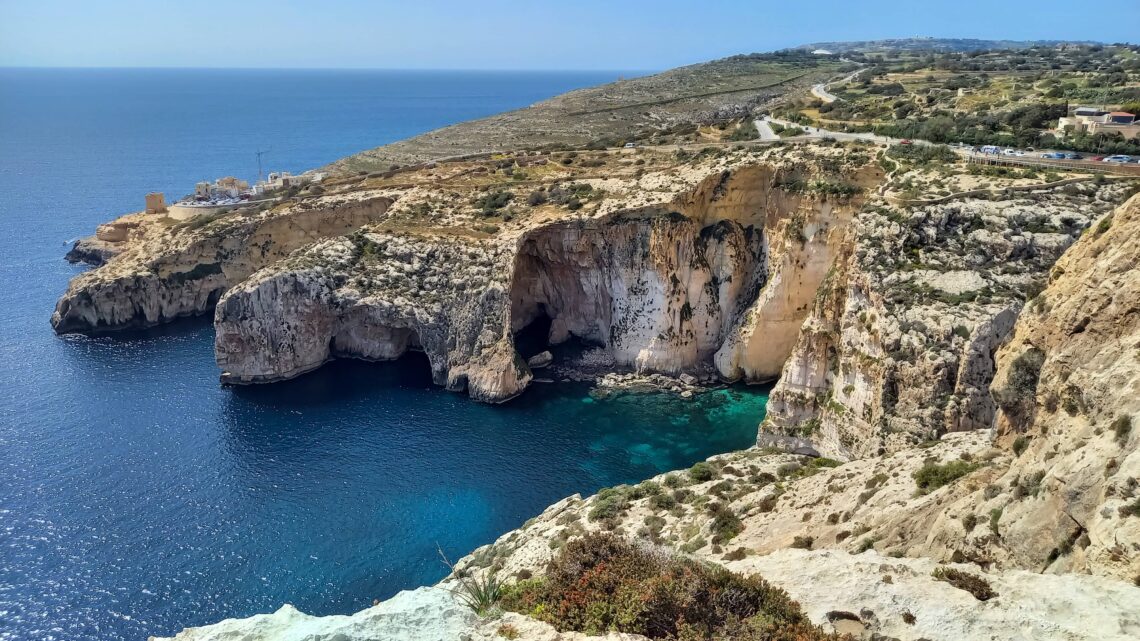 When is the Best Time to Visit Malta? Climate and Weather
Under the Maltese sun… You've heard about the Maltese archipelago, bathed in the Mediterranean Sea, and you already see yourself there.
But one question remains: what is the best season to go to Malta?
Mediterranean climate, lots of sunshine. The Maltese archipelago is known to offer over 300 days of sunshine a year.
Did you say idyllic?
No, not always. The reality is a little more nuanced. Don't expect to be lounging on the beach all year round! The weather in Malta is not always as mild as it seems.
I've been living in Malta for over four years and I can tell you one thing: behind the rosy picture there are a few disappointments.
Every year I see tourists arriving in shorts and being surprised by the somewhat capricious weather. The cold and wet wind beats their calves. They end up wrapping themselves in their still wet beach towel. When it's not a heavy downpour that soaks their clothes as well as the towel!
But don't worry: you won't be one of those tourists!
After reading this article, you will know everything about the climate and weather in Malta. My advice will help you to know the best season to go to Malta.
So, follow the guide. Let's get started!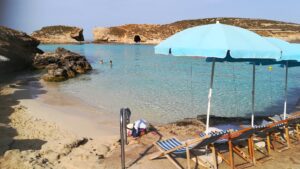 Spring in Malta: summer before time
Spring is a pleasant season in Malta. The days are getting longer and the sun is often out.
The wind is quite present. Beware, it often blows hard!
The archipelago remains green in early spring, before the vegetation gradually dries out due to the sun, wind and lack of rain, giving way to a more arid landscape.
This is an ideal season for hiking until May.
From May onwards, spring turns into summer: temperatures rise and the seawater warms up.
Summer in Malta: welcome to the furnace!
Normally, I love summer. But in Malta, I gradually hated it. Behind the picture postcard – deckchair, feet in the water, cocktail in hand – lies a real furnace from which we try to escape as best we can.
All strategies are good to try: finding an air-conditioned accommodation (which is not always easy!) or, failing that, "squatting" with a friend or acquaintance who is better equipped than you, going to a mall, working in an air-conditioned office (if you are an expatriate in Malta)…
So, to be able to enjoy what summer has to offer, you have to wake up early, very early, before the blazing sun and the hordes of beachgoers storm the place (from 10 am). If you're not an early bird, wait until the evening, about 2 hours before sunset, so you can enjoy the outdoors and go for a swim. In addition, you can watch a beautiful sunset.
Night walks are also enjoyable in Malta, as long as you protect yourself from mosquitoes.
Autumn in Malta: the Indian summer
At the end of the summer, we observe with relief the greenery gradually coming back. Temperatures drop a little, and we can finally enjoy the summer activities. You can swim in warm waters without feeling like you are cooking in a pot with a grill on top.
This is also the season when I've seen the most beautiful sunsets.
Autumn is clearly my favourite season in Malta, especially October. This is when I enjoy the Mediterranean climate the most.
However, don't be surprised by the heavy showers. Malta doesn't do things halfway: the sun is very bright, but the rain is torrential and turns the streets into streams. Bring a good raincoat and rain boots!
Winter: spring-like weather masking a damp cold
In winter, the thermometer rarely drops below 12 degrees and the sun remains relatively present. The greenery, wild flowers, daffodils and blooming almond trees give the Maltese archipelago a spring atmosphere.
Beware, however, that you may be colder than in other European countries where temperatures are lower. The cold wind freezes your hands and the humidity makes it feel colder than the actual temperature.
Don't expect to stay at home to escape this: homes in Malta are damp, mostly poorly insulated and have no heating. You'll need to use a space heater or reversible air-conditioning, get out the warm jumpers and wrap up in your favourite blanket. If you want to expatriate to Malta, this is something to consider.
As for me, the wet cold got the better of my fingers, as I got frostbite! A doctor told me that it even happened to Russians living in Malta…
Besides, you might be surprised by the sun which sets very early: about 4.30 pm on the winter solstice.
Note that some winters are milder than others. In February 2021, I took advantage of the exceptional weather to sit on my terrace and study. Unfortunately, I can't say the same in 2022: the winter in Malta was particularly cold and wet.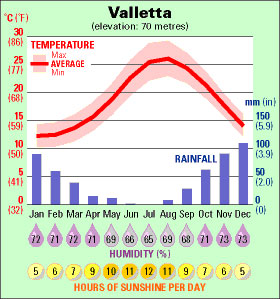 Bottom line: when is the best time to visit Malta?
Malta offers ideal weather in spring and autumn.
If you want to go hiking in Malta, coming in April/May is a good option. In April, the greenery and flowers are still present (although they gradually dry up as the month goes on). However, don't come specially to swim, unless you are particularly brave.
If you go to Malta in June, be sure to enjoy summer-like weather: sunny and hot, but not yet stifling.
I really don't recommend going in the summer (July/August). The heat is stifling. It is also a busy time for tourists. There are many (too many) people, which will not allow you to visit Malta at your leisure. Moreover, high tourist season means higher prices. Not ideal if you are on a budget and are looking for cheap accommodation and services.
Is it a good idea to go to Malta in winter? The low season is ideal if you want to visit Malta while avoiding the crowds and benefiting from cheaper rates. The mild temperatures will allow you to go hiking and explore the Maltese countryside in full bloom.
However, be sure to bring warm, rain-resistant clothing. A swimsuit is not necessary unless you like to swim in cold water. You should also be aware that there is a risk of a bad weather episode. Rain and strong winds often hit the archipelago.
So, when is the best time to visit Malta?
For me, it is autumn.
From mid-September to mid-October is the best time for swimming, snorkelling and diving. The water is still warm (on average 25°C!).
October and early November are, like spring, a great time for sightseeing and hiking.
So, did my advice make you want to go to Malta? Which season would you choose?
Do you want to go further?
Discover my e-book to help you organise your trip to Malta!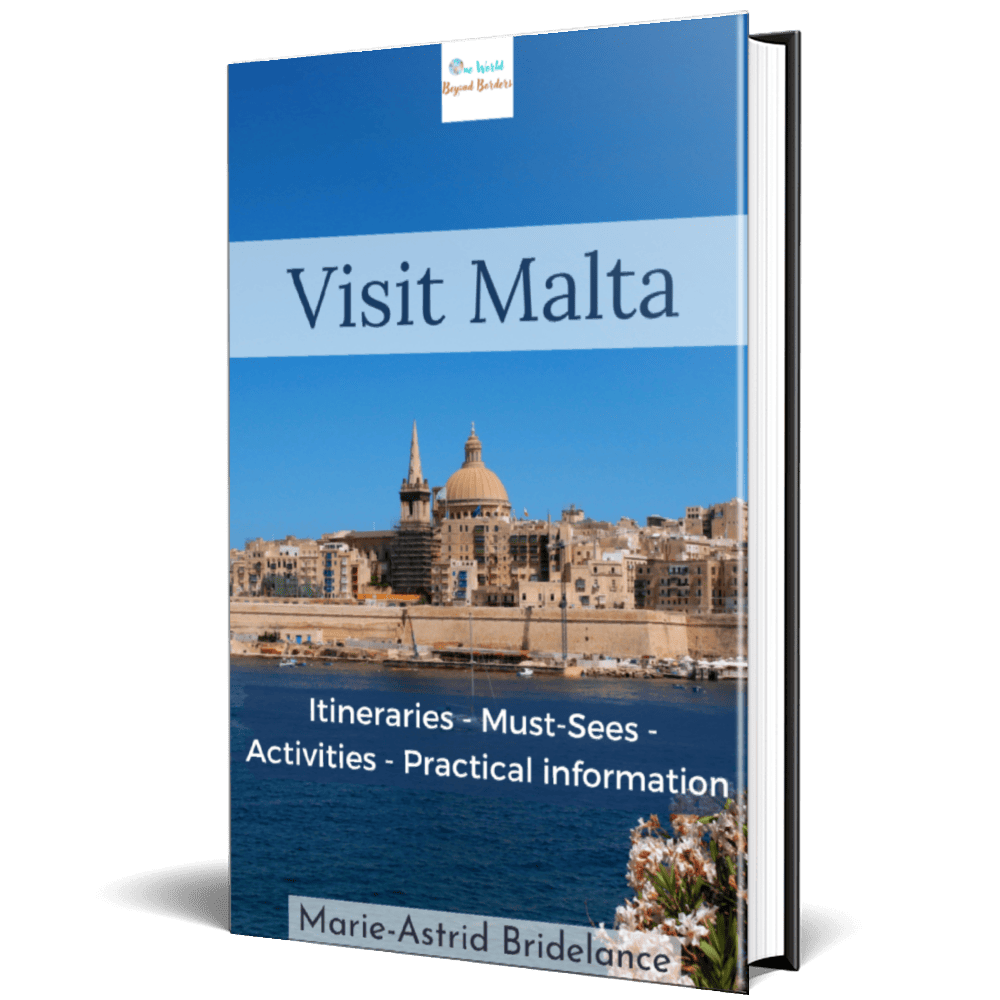 Did you like this blog post? Pin it!