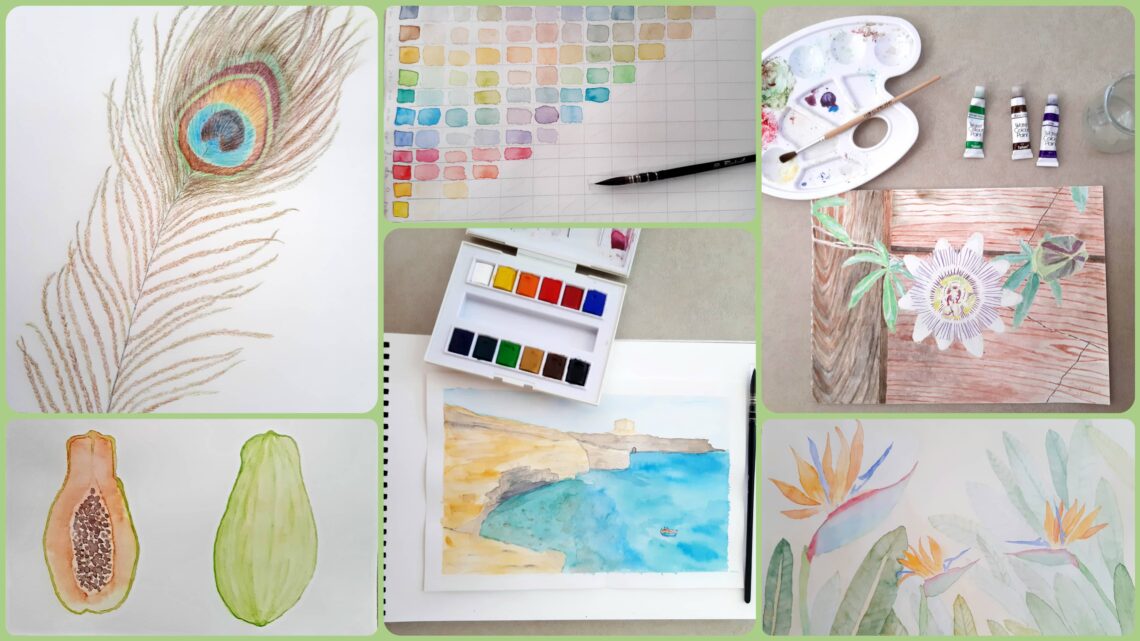 And Then I (Re)started Watercolour Painting
"A watercolour is not a story, it is the translation of a sensation, a memory, a state of mind."

Hugo Pratt
Starting watercolour is a good way to relax and dream. Soft colours. Fusions that invite you to let go. A light painting equipment that makes nomadic practice particularly easy. Just grab the brush and let yourself be carried away on a journey to the heart of your imagination. Fascinated by this medium, I started watercolour a year and a half ago.
Come and join me on my creative adventure in the land of watercolour.
My first steps in watercolour
As a child, like many people, I used to draw and paint. It was an activity I was doing quite naturally.
I didn't care about other people's gaze, sometimes critical, sometimes positive, rarely neutral. Is it "beautiful"? And, first of all, what can be judged as such? According to what criteria? Are the proportions right? Did I choose the 'right' colours? I didn't care.
I drew and painted because I liked it. I let my imagination come to life on Canson® paper.
And then I grew up. I started to have busier days, other concerns. I was more subject to the gaze of others. I gradually got caught up in the whirlwind of life.
They say that this is what growing up is all about. Having less time for leisure. Less time at all. Devoting oneself to more 'serious' activities. Insidiously, society tells us a certain way to go, a certain way of being and becoming. So I put aside my childhood watercolour palette, stored my pencils and gouache tubes in a drawer.
And then, gradually, I missed drawing and painting. The idea of getting back into it, just for myself, began to take shape. So I took out my pencils again, bought some cheap tubes of watercolour. I was particularly attracted to watercolour, without really knowing why. Perhaps it was its soft, poetic colours? Its mysterious charm? Or the enchanting fusions that it allowed to achieve? Probably a bit of all of these reasons.
So I started to paint again. I reconnected with my inner child.
My watercolour materials
My beginner's materials
I really wanted to try this medium, but I wasn't sure to practice it in the long term. To start with, I didn't want to invest in expensive equipment. So I bought a set of 10 watercolour tubes, a plastic palette and an entry-level brush at the local stationery store.
I wanted to try it out first without any "pressure", without the fear of "wasting" material by failing my pictures and then giving up.
I took out my Canson® paper, the one that had been sleeping in a drawer. It was still in perfect condition, ready to be used again. The two of us picked up our creative adventure where it had stopped.
I started to draw and paint simple patterns, mainly flowers and plants I came across during my nature walks. Nature is my first source of inspiration.
Watercolour was love at first sight. I quickly felt the need to go further by learning the basic techniques and investing in better-quality equipment.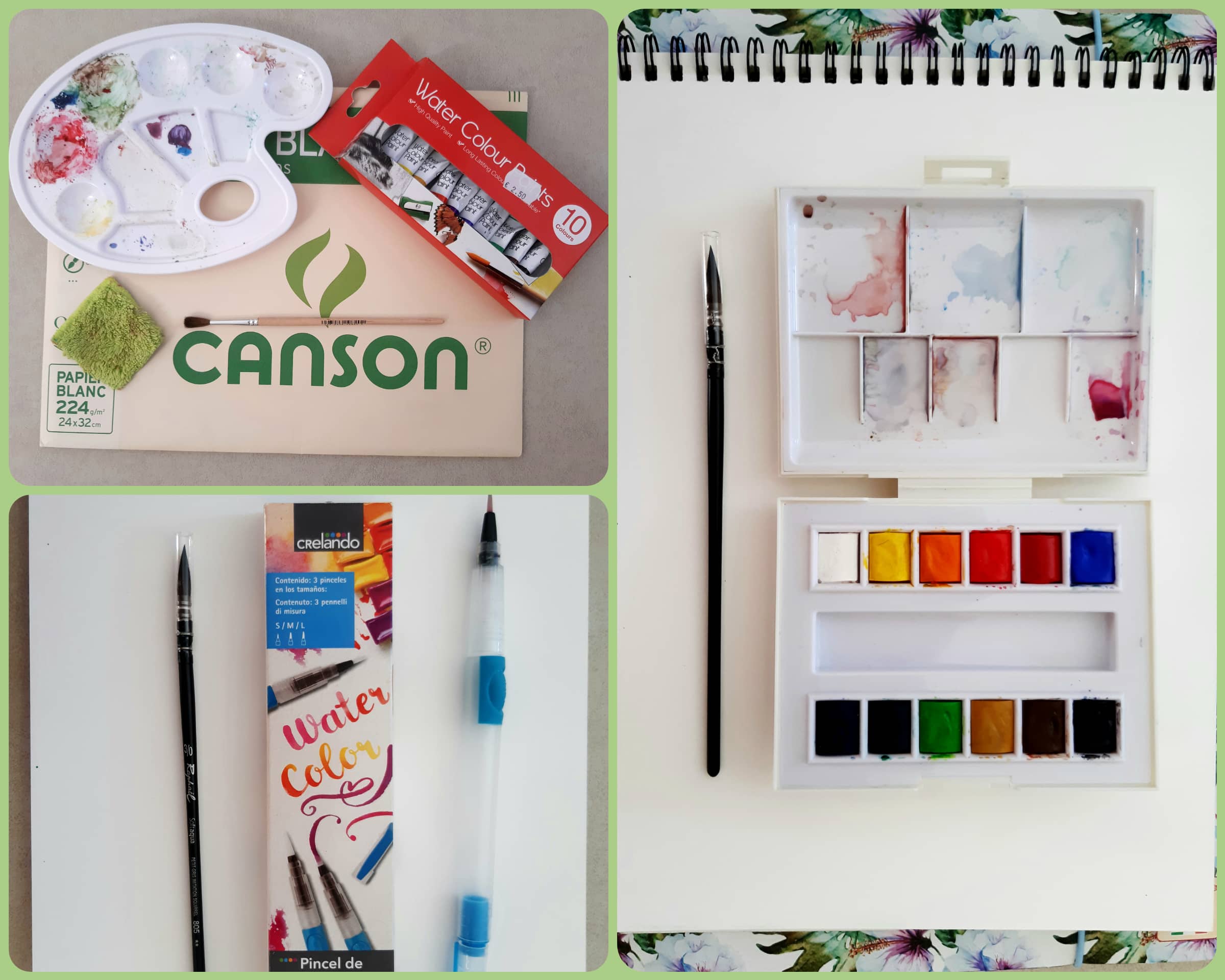 My current materials
Investing in quality equipment was a decisive step in my creative adventure. It is from this moment that I truly understood the full potential of watercolour.
The pigments in my entry-level watercolour tube were not mixing well, making it difficult to achieve the iconic fusions of this medium. The brush didn't absorb much water and didn't allow me to paint accurately.
For last Christmas, I got a kit to start watercolour painting. It is the Sennelier kit "starting watercolour" co-created with Les Tribulations de Marie, a French brand. I chose fine watercolour in pans, perfect for starting, practising and having fun. As soon as I tested it, I was blown away by its quality. The watercolour brands distinguish two types of watercolour: fine watercolour (perfect for beginners and training) and extra-fine (professional quality). There are other good watercolour paint brands, such as Winsor & Newton, Daniel Smith or Schmincke Horadam for example.
The Sennelier kit also includes a Raphaël Softaqua 805 3-0 wash brush (vegan). This type of brush is versatile and allows you to do many things with watercolour.
I continue to use my trusty Canson® paper, which is a cellulose paper. There is also cotton paper, which helps to make even prettier fusions. The kit also includes some sheets of cotton paper, so that we can try it.
I also have three water tank brushes of different sizes. They are very handy for travelling or painting outdoors as you don't need a water bucket. However, I prefer my wash brush as it gives me more possibilities in terms of effects.
My bucket is an old glass yoghurt pot.
My resources to learn watercolour
Today, it has never been so easy to start watercolour painting. The Internet and YouTube are full of passionate artists who generously share and transmit their know-how. These artists share material tips, tutorials, explain watercolour techniques and are a great source of inspiration.
So here are the websites and YouTube channels I like to follow to improve my watercolour skills:
I am never short of inspiration when it comes to finding a subject to paint in watercolour. Nature and travels are my first source of inspiration. During my nature walks and my travels, I take a lot of pictures. These are both precious memories and a library of inspiration. I am also inspired by photos taken by my family and relatives, especially by my mum and my husband.
When I want to paint a subject for which I don't have a photo, I look for one on a royalty-free image bank, such as Unsplash, Pexels or Pixabay. Indeed, it is important to respect copyright and not to appropriate images we don't own, even if it is just to paint them.
Finally, I like to watch the work of different artists, not just watercolourists, either on Instagram or at art exhibitions.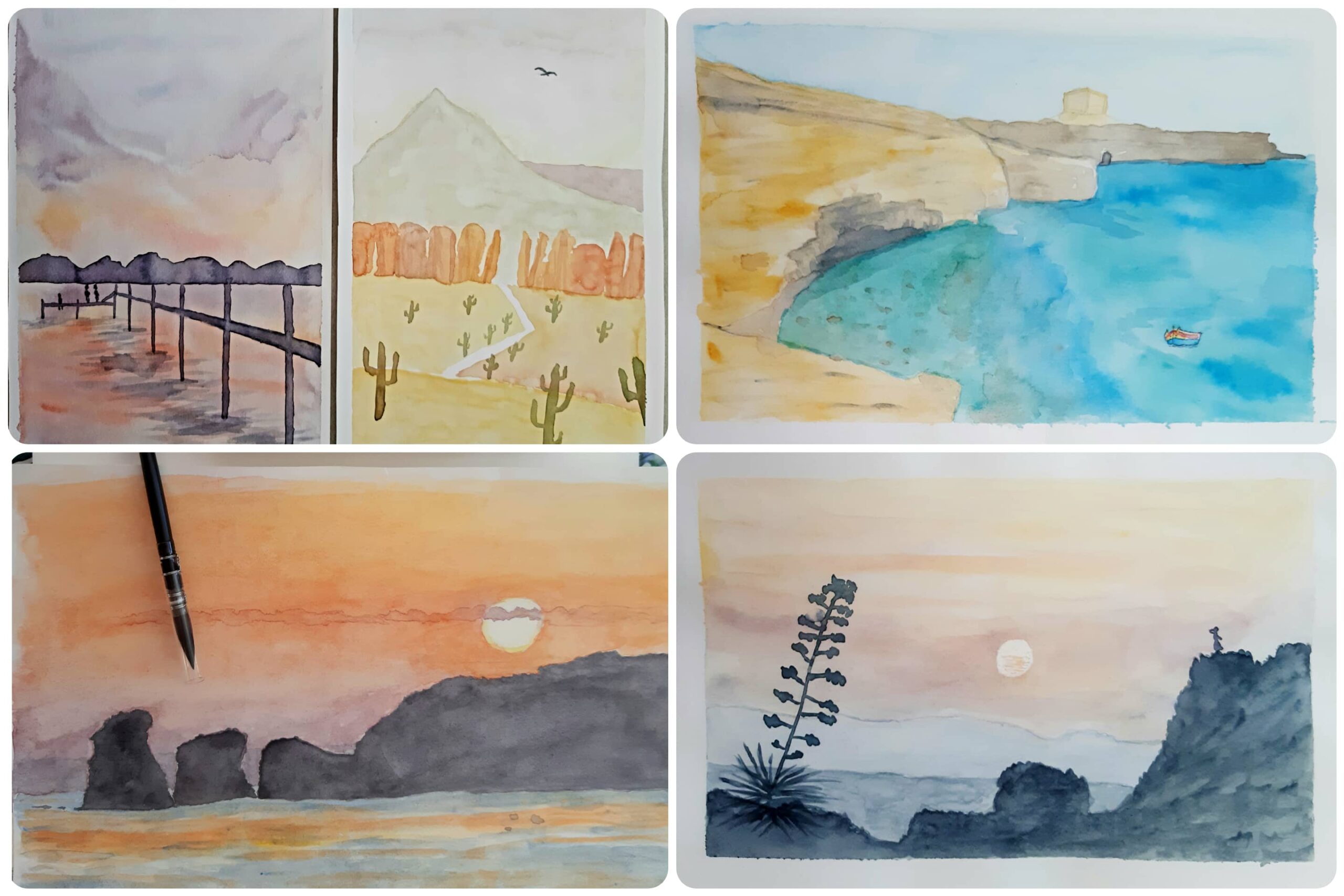 The benefits of watercolour for me
Painting with watercolours is a way to relax and travel. It allows us to cross borders in another way, thanks to our imagination. It is enough to paint a landscape of a place that inspires us to be transported there. Watercolour also fits well to a nomadic practice, especially when you have a travel palette like me. It is possible to paint in the open air and create your own travel journals.
Watercolour allowed me to put aside my perfectionism. When facing a blank sheet of paper, it is a matter of daring and not remaining blocked by fear of "failing" a painting. As we say, "better done than perfect".  Furthermore, you have to deal with the particularities of watercolour: there is something unpredictable about it that other mediums do not have. We can never fully control the fusions that occur in front of our eyes. Sometimes backruns appear on the paper when we want to avoid them. But there is also beauty in the unexpected. The unwanted backruns gives a unique touch to our composition.
Painting is very relaxing and allows us to take time for ourselves. Watercolour invites you to let go, like a meditative practice.
I have thus gradually reconnected with my creativity. I have overcome my blocks, my beliefs that I am not "good" at painting, that I need to have a gift. I have overcome the fear of "wasting" material: we actually learn and improve ourselves while practicing, and in any case, we spend a good time. It's all about painting while enjoying the process, without expectations of the result.
This practice allows us to do something just for ourselves, which is not "productive", in a society that pushes us to be more and more productive.
That's it! I hope that my creative adventure with watercolours has inspired you. I invite you too to reconnect with your creativity and your inner child if you feel like it.
Paint, relax, travel to the land of your creativity! The only limits are those of your imagination.
Did you like this blog post? Pin it!