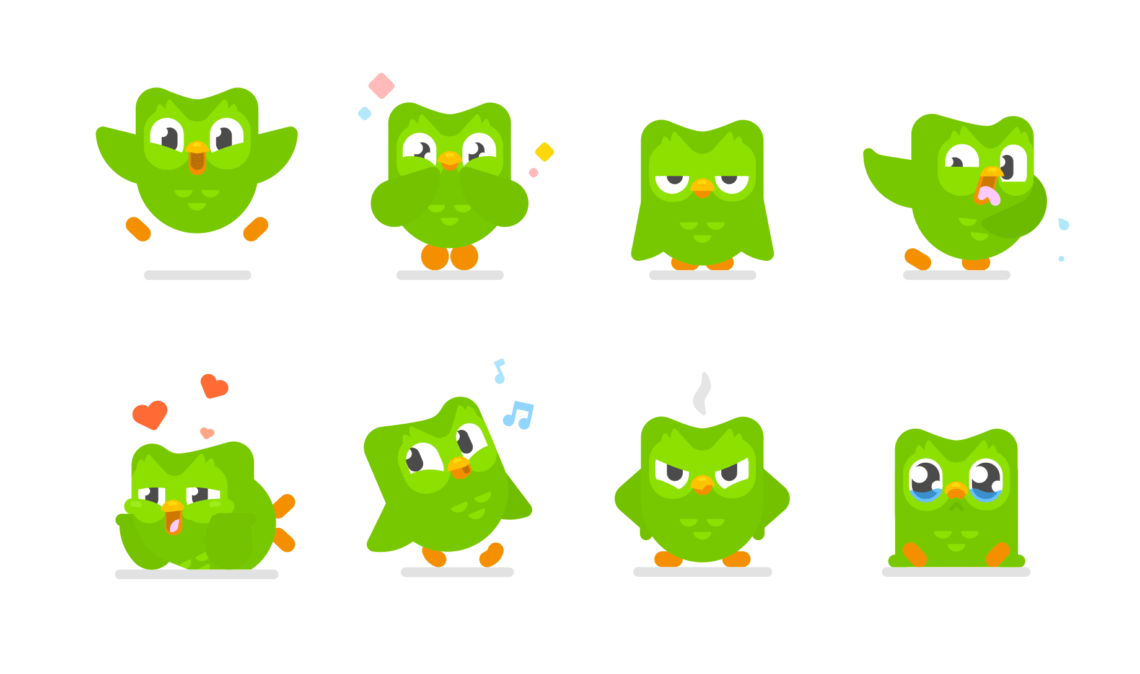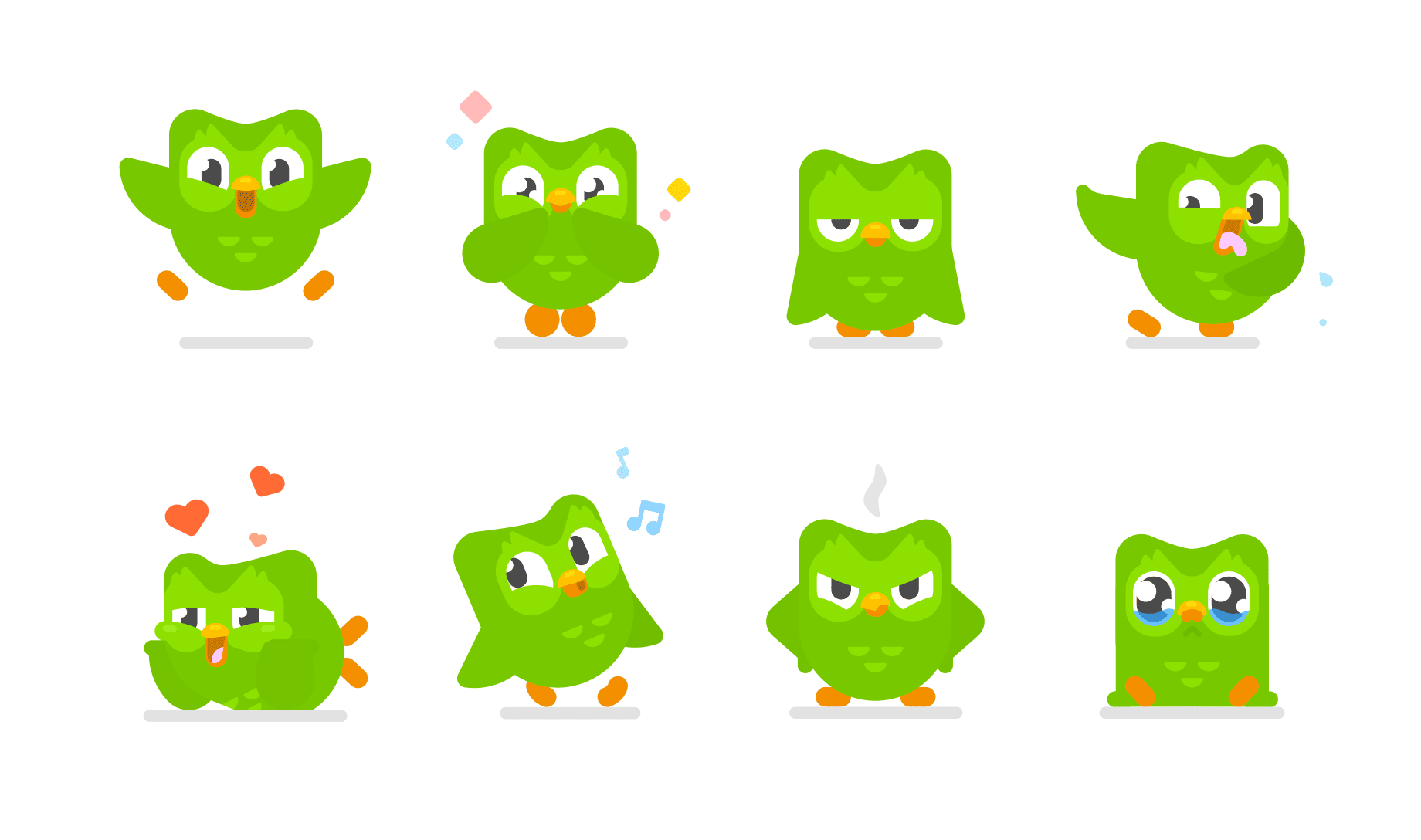 My Review of Duolingo, the Application to Learn a Language for Free
Does Duolingo really help you learn a language?
If you are learning a foreign language, you have probably already heard of the Duolingo application. It is a very popular app for learning English, French, Spanish and other languages for free.
But is this application really the best method for learning foreign languages, as it promises? That's what we are going to see in this article. I'm going to tell you about my experience with Duolingo, and then present the pros and cons of this application.
My language learning experience with Duolingo
When I started learning foreign languages on my own, I looked at the resources I could use. Apps are one of them. Among the most popular: Duolingo, MosaLingua, Babbel, Mondly. I tried Duolingo because it was free (as a student and intern, I was looking for low-cost solutions). I used it on a daily basis for a while. Today, I continue to use it as a complement to my other learning resources.
Learning English and Spanish with Duolingo
At first, I tested Duolingo with the two languages I was learning: English and Spanish. As a reminder, French is my native language. At the time, I was not yet bilingual (French/English). I had a B2 level in English and a B1 level in Spanish, according to the Common European Framework of Reference for Languages (CEFR).
To be honest, I stopped very quickly and turned to other educational resources. Indeed, I already had an intermediate level in both languages. I had acquired a good foundation, especially in terms of grammar and vocabulary. What I wanted to do was to improve and become more fluent. In the end, you learn a language to speak it. But the Duolingo application does not allow you to speak a language fluently.
Learning Italian and Arabic with Duolingo
Later, I started learning Italian and Arabic. I then wanted to test the application again. This time, my assessment is more positive.
I was a beginner in these two languages. I think that Duolingo is more suitable for beginners than for people with an intermediate or advanced level.
For about a year, I used Duolingo almost daily. I tried both the mobile application and the browser version. I preferred the browser version, because it contains short learning worksheets called "Tips". I think it's a pity that they don't appear in the application.
Although the application and the browser version are free, there is a premium offer, Duolingo Plus, which allows you to remove ads and have access to unlimited tests. I haven't tested it.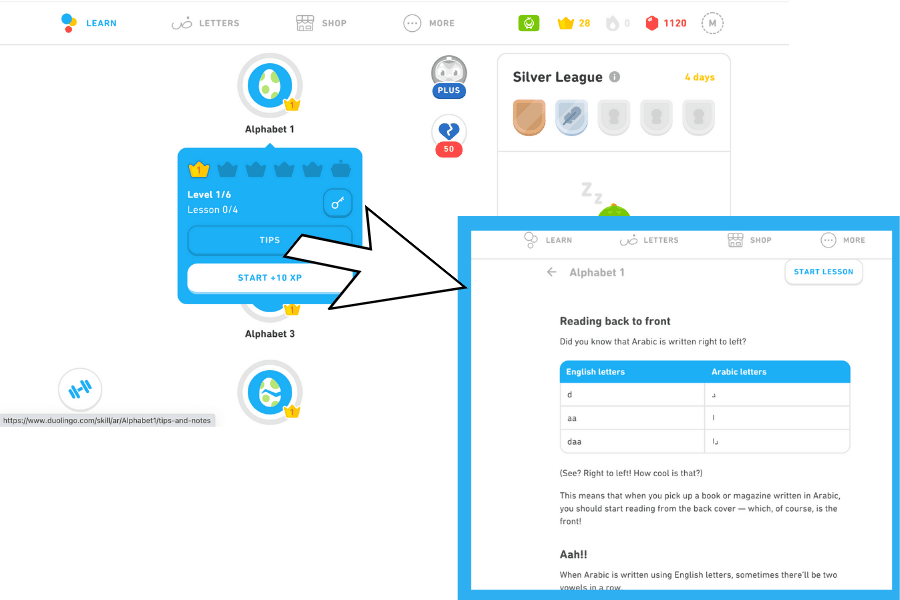 So, did Duolingo help me learn Italian and Arabic for free?
Using Duolingo has helped me in my learning. Today I still use it, but more occasionally. Indeed, I don't settle for one application to learn foreign languages. I have several resources: the Assimil method for Arabic, Italian grammar, YouTube language learning channels run by native speakers and teachers, etc.
After having tested Duolingo, I am able to present you its pros and cons.
The advantages of Duolingo for learning a language
Let's start with the strengths of Duolingo.
Duolingo: free and practical
Duolingo's first advantage is that it is free. It is actually based on a freemium model: the basic version is free, while a premium offer (Duolingo Plus) gives access to certain advantages when you subscribe to it. The free version is very satisfying and really gives access to all the courses, exercises and resources. This is Duolingo's strength: you can enjoy it to the full without paying a single penny, unlike other programs and applications where the free version is only a preview or a trial period.
Duolingo is a very practical language learning tool. The browser version of the program provides access to short learning worksheets explaining grammar, conjugation and vocabulary. After consulting these cards, we can apply what we have learned through the exercises (lessons).
Using Duolingo allows us to take advantage of the downtime during the day to learn a foreign language. You don't need to have a lot of time ahead of you: five minutes is enough to do a lesson. For example, you can take advantage of your bus journey to do one or two lessons. Some lessons include pronunciation exercises. It's up to you whether you feel comfortable talking to your smartphone alone in public or not!
In addition, the lessons focus on real-life situations, such as ordering in a restaurant. On this point, the application has improved, as it used to contain a number of strange sentences ("The cat is in the oven" is a survival).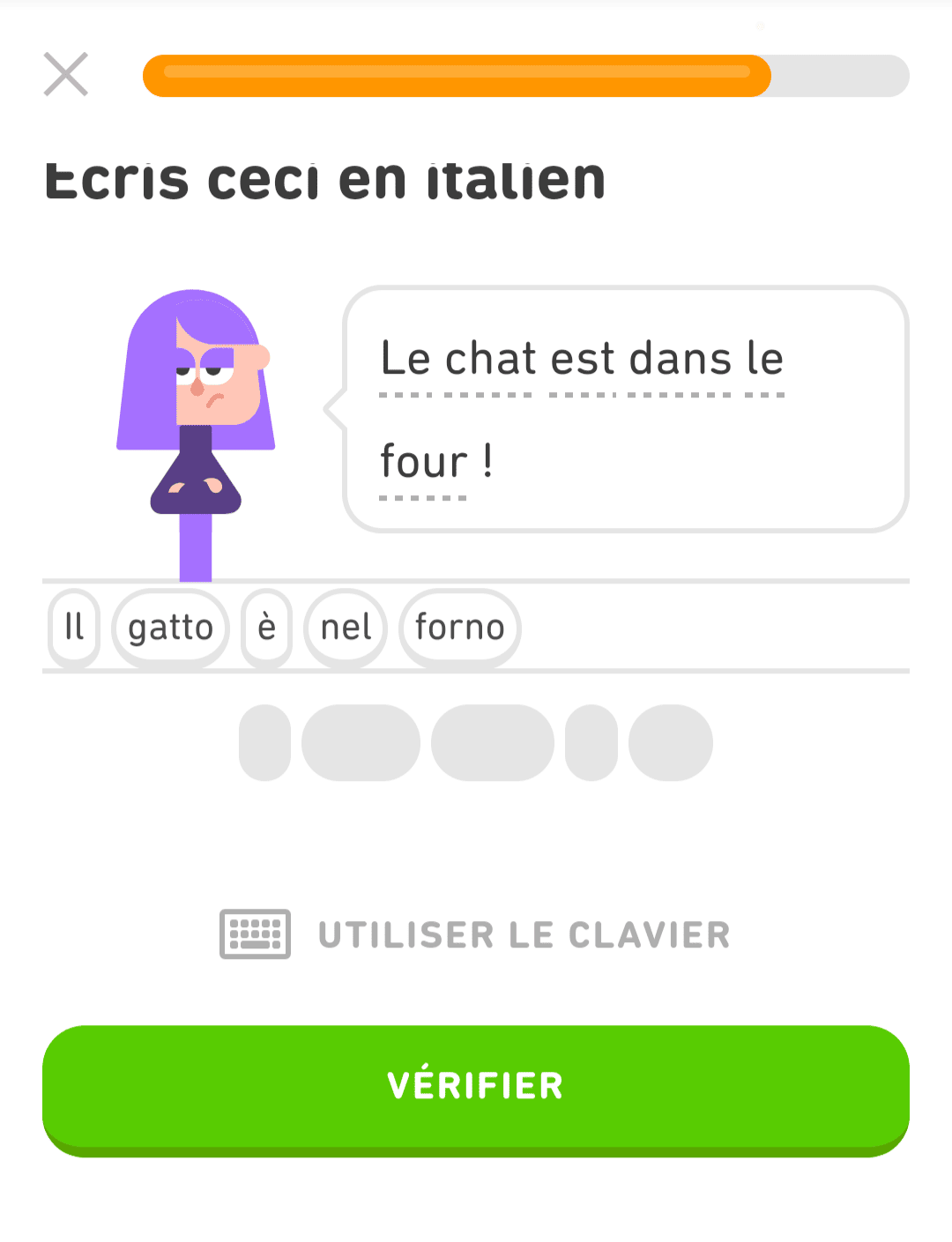 In any case, with Duolingo, no more excuses! You can learn a language easily and for free.
Learn languages by playing a game
The second advantage of Duolingo is that it allows you to learn languages through play.
When you start a course in a language, the application offers you a test to evaluate your level. If you are a complete beginner, you do not need this test. You choose the "beginner" option directly.
Duolingo then asks you to set a language learning goal, based on the amount of time you are ready to spend on it each day. I particularly liked this aspect because the application presents language learning as a challenge. It uses the streak that represents the number of consecutive days you have been using the app to learn. This is very interesting to stay motivated.
Furthermore, Duolingo's interface is fun. As you can see from my screenshots, the courses are presented in the form of a game. There are several levels, various characters, rewards (lingots and gems), encouragement from the owl – Duolingo's famous mascot – during the exercises.
There is even a practice option where you can do revision exercises.
As I said earlier, some of the sentences may seem out of place. At first glance, you think they won't be useful. But their unusual aspect actually makes them memorable. For example, while learning Italian, I learned to say: "Il gatto è nel forno! (The cat is in the oven!)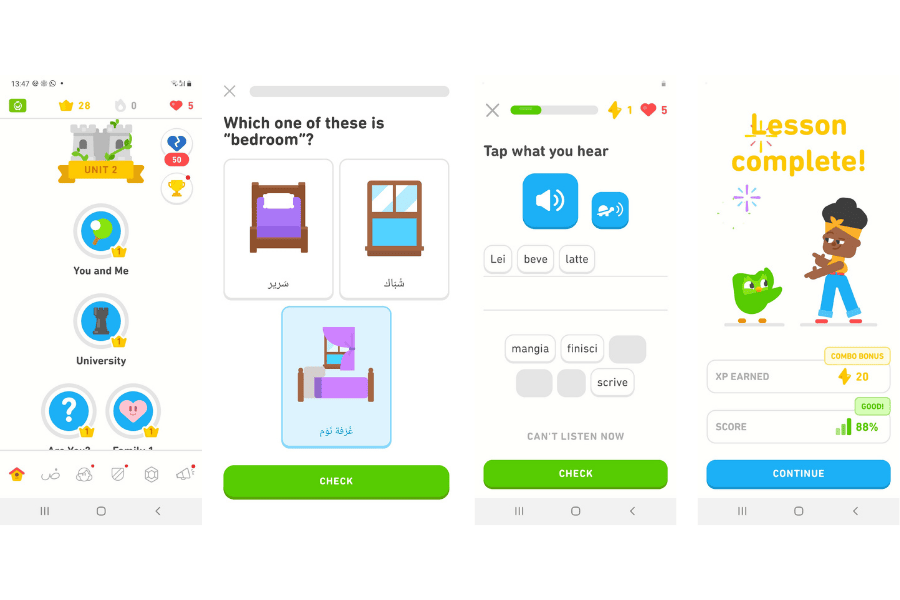 Work on listening and pronunciation with Duolingo
Duolingo allows you to work on your listening skills. I strongly advise you to use the application or its browser version with sound. All the sentences are spoken by native speakers, which helps to improve your listening comprehension.
You can even go further and work on your pronunciation with Duolingo. When I'm doing a lesson, I repeat each sentence out loud (something I don't dare do on the bus!). This technique is called "shadowing". It's about imitating what native speakers say, like a parrot.
Duolingo also has voice recognition software. Some lessons include words and sentences to be pronounced. The application tells us whether our pronunciation is correct or not. Be sure to speak clearly so that the software 'understands' what you are saying.
Interesting additional educational resources
Another advantage of Duolingo is that it offers interesting additional educational resources:
These are available in the same language pairs as the lessons, and include translations and example sentences from the lessons. In addition, a dictionary of all the words encountered in the lessons is built up as you go along. Each word in the dictionary is accompanied by a gauge, which tells you when to revise a word for long-term memory, based on the principle of spaced repetition.
The stories are dialogues from everyday life.  For French speakers, they are only available in the English course. When you speak English, the choice is wider: Spanish, Portuguese, French, German, Italian, Japanese. For example, I am taking the course to learn Italian from English to access the stories. Learning a new language from one you know allows you to practice "dual benefits" (you work on two languages at the same time).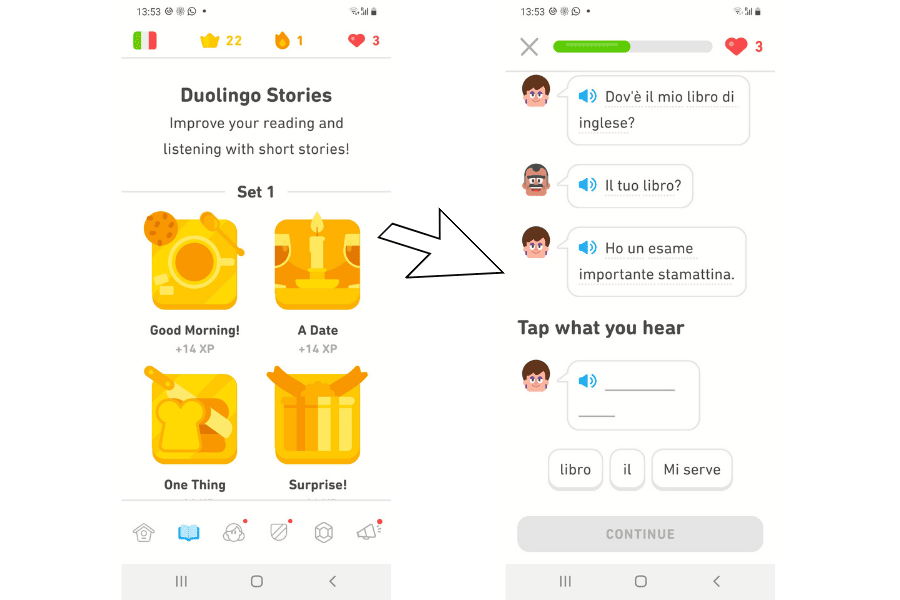 These are available in English for Spanish and Portuguese speakers, in Spanish for English speakers and in French for English speakers.
The forum: an involved Duolingo community
Duolingo also has a forum, run by an involved community.
It consists of a section for each language and a problem-solving section. I have never actively participated in it, but I have consulted some of the topics in order to answer my linguistic questions (e.g. on synonyms, on the use of a word…). Some topics are actually like mini-courses.
This forum is also accessible during the lessons. Each answer given in an exercise offers the possibility of opening a discussion to ask questions.
Alas, I have just learned that Duolingo is closing its forums: the change takes effect on March 22nd, 2022.
This brings us to the drawbacks of Duolingo.
The disadvantages of Duolingo for learning a language
Duolingo has a number of disadvantages.
Duolingo, not enough to speak a language
Let's be clear: you won't speak French (or any other language you learn) after using Duolingo alone. This application is only a tool, not a miracle solution.
I advise you to vary your learning resources: language methods, podcasts, applications… without forgetting to practice! Write in the language, speak with native speakers! That's the only way you'll become more fluent.
A still limited educational offer
Another weak point: the educational offer is limited.
At the time of writing this article, the catalogue of languages that can be learned with Duolingo is limited. For example, it is not possible to learn Arabic from French (my native language).
In addition, some parts of the application and the website are not accessible from French. The stories and podcasts I mentioned above are not available in all languages. If you only speak French, the stories are only available in the English course. If, like me, you are learning Italian, you will have to follow the English course to access the stories. As for the podcasts, none have been made for French speakers. So, you need to speak English to access more resources (you do, don't you?). But even if you speak English, some of the courses do not have stories. For example, I regret not being able to listen to stories in Arabic, which would be very useful.
Also, I find that Duolingo is mostly for beginners. If you have an intermediate level, you will be bored and you will not learn anything useful. I wanted to try it out with English and Spanish, but I stopped right away.
The tips are only present on the browser version of Duolingo, as I said in the first part of this article. I find this a shame.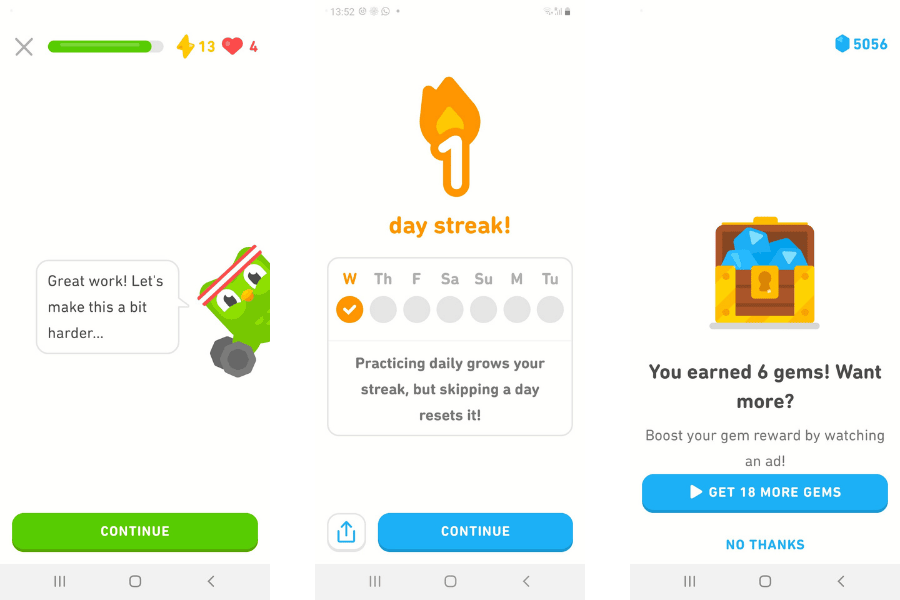 Duolingo, a stressful application?
As I said, Duolingo uses the streak (that represents the number of consecutive days you have been using the app to learn). Designed to be motivating, it can also be stressful, even guilt-inducing. I've seen myself at 11.30pm after a busy day saying: "oh no, I haven't done my lesson today". Skipping a day has the consequence of breaking the streak. There is of course the option of "freezing" a streak, by "buying" a streak freeze from the shop with the lingots and gems earned by completing lessons. But this solution does not erase the fact that you did not train today. It is also a mental burden, as you still have to log in to the app or website to "buy" the streak freeze.
Breaking a streak can negatively impact your self-confidence. Self-confidence is an important element in achieving one's goals, in terms of learning foreign languages as in any other field.
Furthermore, Duolingo sends you a daily reminder by email to do your lesson. This reminder can also be stressful, as well as cluttering up your email inbox. I immediately unsubscribed from these emails.
Memes created by Internet users ironically underline this stressful aspect. For example: "5 more days and we let your brothers out of the gulag!", "Learn Spanish today of Language Bird will take out your family".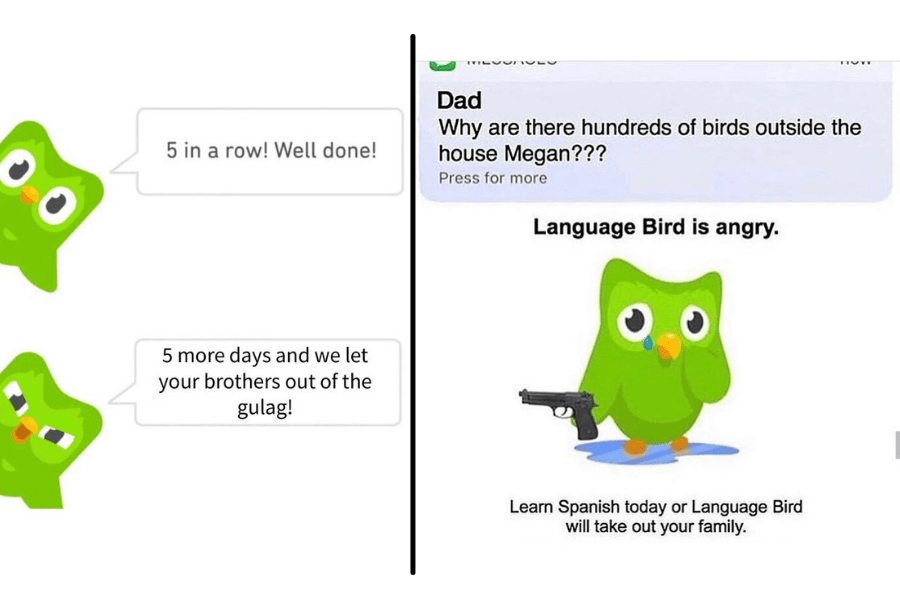 In conclusion, Duolingo is not enough to learn a language if used alone. But it is an interesting and fun addition to your learning routine.
I hope that my opinion on Duolingo has been useful to you. Don't hesitate to tell me in the comments if you've tried this free language learning application and, if so, what you thought of it.
Cover photo credit: official Duolingo press kit.
Did you like this blog post? Pin it!